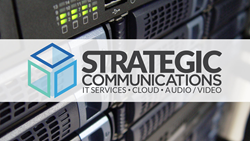 "Strategic Communications is honored to offer seamless AV integrations services for companies across the U.S.. Our team is top notch, with a proven track record of topping our competition and providing the highest level of client support.", Danny Herron, Strategic Communications
LOUISVILLE, Ky. (PRWEB) September 18, 2018
Strategic Communications, answering strong demand for its custom AV design and installation services, provides seamless AV integration experiences for clients across the U.S. With certifications from industry-leading technologies (Crestron, AMX, Biamp, Extron, Cisco) their team is well positioned to deliver an impactful audio video experience!
Strategic Communications possess years of experience partnering with the US Department of Defense in providing fully integrated Command and Control audio video solutions. Organizations use these spaces for mission-critical projects. As the backbone of command and control operations, AV and IT systems must simplify use and maximize efficiency. With over 24 years of audiovisual and IT integration experience, Strategic specializes in the design and deployment of command and control rooms. From 4K video walls to unified communications systems, Strategic integrates it all into a comprehensive package.
STRATEGIC COMMAND AND CONTROL CAPABILITIES:

Lower, and in some cases eliminated downtime
Increase collaboration capabilities
Faster decision-making and incident resolution
Improve situational awareness among users
Decrease number of persons at off-shore assets
Minimize travel due to remoting capabilities
AV and IT solutions compliant with existing security requirements
Enabling video conferencing, content visualization from multiple sources, and incorporation with existing legacy components
Strategic's complete portfolio of Custom Video Walls encompass a wide range of different sizes, resolutions and technologies. Large-scale display systems are designed by certified experts with decades of experience in video display technology. Featuring the narrowest bezels, most flexible mounting systems and slimmest installation depths, Strategic's video walls remain best-in-class. Cutting-edge display solutions specifically deliver precise and brilliant visual messages in the world's most demanding environments. From control rooms to digital signage, they provide a seamless integration for your video wall solution.
Designing and installing a video wall is a big job and requires precise planning. Strategic's Audio Visual team is certified in designing, mounting, hanging and connecting your video wall to deliver optimal impact. Their engineers also assist with content management and display design. Customers are trained to use the equipment and how to display rich and engaging pieces of content on their video wall platform.
Digital Signage is a highly powerful and flexible communication method: a dynamic video display engaging digital media to a public audience. Strategic Communications offers both standardized and custom digital signage solutions, from mounting screens to creating specialized kiosks. Their software works over an internet connection, delivering rich media content managed seamlessly through a single pane of glass. From live social walls for events to interactive applications like menu ordering and scheduling, Strategic Communications handles it all.
Strategic Communications is an Information Technology (IT) Solutions company focused on Cloud Solutions,IT Security, Network Engineering , and A/V systems design. Founded in 1994, Strategic works with small businesses, commercial enterprises, SLED institutions and federal agencies across the United States delivering solutions to fit specific business requirements and end-user needs. Leveraging our partner relationships, business longevity, and experience we provide clients with an "on-time/on budget" experience delivered with the highest level of customer support. Strategic is a Cisco Gold Partner and an ISO 9001:2015 certified business, offering best in class technical solutions. Strategic's customers have access 24/7 to our dedicated team of IT experts for large and small-scale projects no matter what size business or organization you represent.
For more information on the company's achievements and experience, services provided and key leadership, please visit the web site at: http://www.yourstrategic.com.
Media Contact:
Ashley Shadburne
http://www.hatfieldmedia.com
contact(at)hatfieldmedia.com