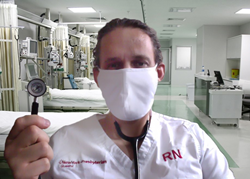 NEW YORK (PRWEB) July 30, 2020
Strategic Financial Solutions, a leading financial services firm that provides debt relief solutions for people in challenging financial situations, again partnered with TinySuperheroes for its annual Strategic Superhero Day. This is the third consecutive year that Strategic has raised money to support TinySuperheroes and again donated over $2,000 to the organization. Strategic has raised over $5,000 for TinySuperheroes since the partnership began.
"Especially during these unprecedented times, our Strategic Family continues to show up and help others in need," said Ryan Sasson, CEO of Strategic Financial Solutions. "TinySuperheroes is such an important and inspiring cause and our Superhero Day was a great way for Strategic to come together, even when we're all working from home, and have fun while doing good."
To celebrate Superhero Day, Strategic's employee-owners dressed up as superheroes or created superhero themed Zoom backgrounds that were shared during the day. This was the first year that first responders were honored as superheroes for all their work. TinySuperheroes is an organization that empowers children to overcome any illness or disability. Founded in 2012, TinySuperheroes creates superhero capes for young children to remind them how strong they are to keep fighting.
"I love being able to give to such an amazing organization. And I love that we can give back while having fun," said Karen Habschied, Senior Director of Creditor Relations. "Working at a place like Strategic is so special because we are always thinking of ways to help people. Even during these unusual circumstances, our Strategic Family is still able to come together for TinySuperheroes and make an impact."
Since its founding, TinySuperheroes has empowered over 12,000 kids all over the world. Strategic's donation helped provide custom capes for 65 kids.
"In a time when the world needs more hope than ever, it is incredible when companies like Strategic find creative ways to continue supporting the community and we are incredibly grateful that they have chosen to support our TinySuperheroes Squad again," said Robyn Rosenberger, Founder of TinySuperheroes.
About Strategic Financial Solutions
Strategic Financial Solutions is a leading financial services company that provides comprehensive debt relief solutions for people in difficult financial situations. Through its personalized, tailored approach that includes debt consolidation loans and debt resolution programs, Strategic Financial Solutions has successfully resolved more than $1 billion in debt, and funded loans, for over 100,000 clients. Strategic Financial Solutions has been named one of the fastest-growing companies in New York City twice by Crain's New York and has been recognized by INC. 500 as one of the fastest-growing private companies in the United States. Strategic ranked 21st in the Best Companies to Work for in New York State program and is a Certified Great Place to Work. More information can be found at http://stratfs.com.
Contact:
Gary Foodim
CMO
Office: (212) 810-4544
Email: gfoodim@stratfs.com