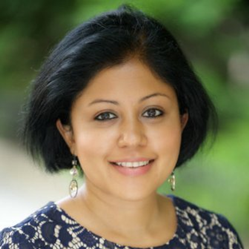 NEW YORK (PRWEB) May 19, 2020
Strategic Financial Solutions announced that Jyothsna Tremblay has been named as the company's first-ever Vice President of Strategy and Business Development. Tremblay will be responsible for leading Strategic Financial Solutions' identification, development, and launch of new products, as well as new services and partnerships for the brand.
"As we think about our growth, it was clear that we needed someone great to lead our business development efforts," said Ryan Sasson, CEO. "I am grateful to have Jyothsna join our team as she brings a proven track record of business development success. She is an incredibly smart, strategic thinker, and shares the same core values that Strategic does. I'm excited to see Jyothsna help Strategic during an important time in our accelerated growth."
As an experienced strategist, Tremblay helped identify and execute growth investments as well as strategic initiatives for multiple organizations including Harman International, a global leader in audio technology and Moody's Analytics, a leading provider of financial intelligence and analytics tools to business leaders around the world. Prior to joining Strategic, Tremblay honed a pragmatic approach to business management and strategy that is based on over ten years of experience and an extensive understanding of market dynamics and competitive trends. She holds an MBA in finance and strategy from Boston University's Questrom School of Business.
"I am thrilled to be starting a new professional chapter in my life with Strategic," said Tremblay. "It was important to me to find an organization that was not only an industry leader, but also aligned with my values. It's such an exciting time to join the Strategic Family given their exceptional growth and their commitment to have that continue."
About Strategic Financial Solutions
Strategic Financial Solutions is a leading financial services company that provides comprehensive debt relief solutions for people in difficult financial situations. Through its personalized, tailored approach that includes debt consolidation loans and debt resolution programs, Strategic Financial Solutions has successfully resolved more than $1 billion in debt, and funded loans, for over 100,000 clients. Strategic Financial Solutions has been named one of the fastest-growing companies in New York City twice by Crain's New York and has been recognized by INC. 500 as one of the fastest-growing private companies in the United States. Strategic ranked 21st in the Best Companies to Work for in New York State program and is a Certified Great Place to Work. More information can be found at http://stratfs.com.
Contact:
Gary Foodim
CMO
Office: (212) 810-4544
Email: gfoodim@stratfs.com