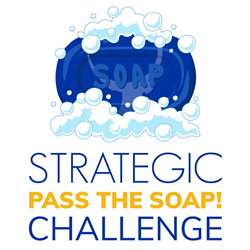 NEW YORK (PRWEB) July 16, 2020
Strategic Financial Solutions, a leading financial services firm that provides debt relief solutions for people in challenging financial situations, participated in the #PassTheSoap challenge to raise money for New York City and Buffalo first responders and residents impacted by the COVID-19 pandemic. The company raised over $3,500.
"Strategic has the power to help people, and the creative ways we do that fill me with great pride," said Ryan Sasson, CEO of Strategic Financial Solutions. "The #PasstheSoap Challenge was fun and raised money for two worthy charities. It's incredible for me to see our employee-owners stand up and care for others, especially during a time of great need. I am so proud of our entire team and the difference we were able to make."
Strategic asked its employees to share a 20-second video of them washing their hands while singing their favorite song, then nominate a fellow coworker to do the same. With the encouragement of "pick your tune, warm up those vocals, and get ready to help a lot of people in need," over 150 employees shared videos during the challenge.
"When the pandemic hit, our first thought, after making sure our employees were safe, was 'how can we help people most in need,'" said Gary Foodim, CMO of Strategic Financial Solutions. "The #PasstheSoap Challenge was a huge hit with our employee-owners, and really spoke to our company culture that's rooted in helping people. It was a great way to give back to our communities and have fun with our Strategic Family."
Strategic donated $25 for each employee-owner that completed the challenge, and the money raised was donated to New York City's Emergency Relief Fund and the Food Bank of WNY. Donations to New York City's Emergency Relief Fund will go toward providing medical personnel with personal protective equipment (PPE), as well as assisting small business owners and vulnerable New Yorkers. The Food Bank of WNY donation will help distribute meals to Western New Yorkers in need.
About Strategic Financial Solutions
Strategic Financial Solutions is a leading financial services company that provides comprehensive debt relief solutions for people in difficult financial situations. Through its personalized, tailored approach that includes debt consolidation loans and debt resolution programs, Strategic Financial Solutions has successfully resolved more than $1 billion in debt, and funded loans, for over 100,000 clients. Strategic Financial Solutions has been named one of the fastest-growing companies in New York City twice by Crain's New York and has been recognized by INC. 500 as one of the fastest-growing private companies in the United States. Strategic ranked 21st in the Best Companies to Work for in New York State program and is a Certified Great Place to Work. More information can be found at http://stratfs.com.
Contact:
Lauren Rabadi
Brand Marketing Manager
Office: (646) 793-3386
Email: lrabadi@stratfs.com