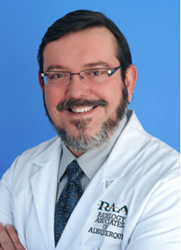 We are committed to the communities that we serve, and we believe that joining Strategic Radiology is in the best interest of our health care partners and our patients.
ALBUQUERQUE, N.M. (PRWEB) March 31, 2022
Radiology Associates of Albuquerque, (RAA), PA, has joined the Strategic Radiology (SR) coalition of independent private radiology practices, providing a bulwark for independent practice in the Land of Enchantment. RAA currently has 42 radiologists.
RAA has deep roots in Albuquerque, the state's largest city, covering nine hospitals throughout New Mexico and several urgent care and ED locations that also are part of Presbyterian Health Services system, along with multiple outpatient sites. Highly subspecialized, the practice delivers round-the-clock interpretations for patients and provider partners 24/7/365. RAA also maintains a strong outpatient presence with a patient-centered, state-of-the-art freestanding imaging center and two outpatient imaging locations that are part of a joint venture with partner Presbyterian Health Plan.
"We are excited to include Radiology Associates of Albuquerque to the Strategic Radiology coalition," said Scott Bundy, MD, FACR, CEO and Chair, SR. "RAA is 100% committed to independent practice, shares our commitment to continuous quality improvement, and is ready and willing to work collaboratively on a national basis with like-minded groups throughout the country."
RAA has a strong commitment to quality and service, having served Albuquerque and surrounding communities for 45 years. It operates the first imaging centers designated by the American College of Radiology (ACR) as Diagnostic Imaging Centers of Excellence in the state of New Mexico. Its outpatient locations feature both high design and high technology, including 1.5T open MRI, Automated Breast Ultrasound (ABUS), and 3D mammography.
"We are committed to the communities that we serve, and we believe that joining Strategic Radiology is in the best interest of our health care partners and our patients," said Daniel A. Fuentes-Bernardo, MD, president, Radiology Associates of Albuquerque. "We look forward to participating in the Patient Safety Organization and other opportunities to improve the efficiency and value of our services."
RAA is active in the region's radiology community, participating in the New Mexico Medical Society, as well as national associations including American College of Radiology, the Radiology Business Management Association, and the Association of Medical Imaging Management (AHRA). The practice participates in the ACR Radiology Data Registry, which offers access to benchmark data in mammography, lung cancer screening, and dose monitoring for the purpose of quality improvement.
About Strategic Radiology
Strategic Radiology is a coalition of privately owned, independent, radiology practices with a national footprint, representing 1500+ radiologists that have come together to improve quality, gain operational efficiencies, and innovate the future of radiology's private practice model. Strategic Radiology engages in quarterly membership and board meetings, including an annual education and leadership summit and bi-annual meetings of the SR–Patient Safety Organization (PSO), the nation's first radiology-specific PSO listed by the Agency for Healthcare Research and Quality. SR also provides its member groups value through shared savings via a group purchasing program and strategic partnerships. To learn more, visit http://www.StrategicRadiology.org and follow SR on LinkedIn, Twitter, and Instagram.
SR Members:

Advanced Radiology Services; Grand Rapids, MI
ARA Health Specialists; Asheville, NC
Casper Medical Imaging and Outpatient Radiology; Casper, WY
Central Illinois Radiological Associates; Peoria, IL
Chesapeake Medical Imaging; Annapolis, MD
Delaney Radiology; Wilmington, NC
Diagnostic Imaging Northwest; Portland, OR
Gaston Radiology; Gastonia, NC
The Hill Medical Corporation; Pasadena, CA
Huron Valley Radiology; Ann Arbor, MI
Mecklenburg Radiology Associates; Charlotte, NC
Medical Center Radiology Group; Orlando, FL
Mountain Medical Physician Specialists; Salt Lake City, UT
Naugatuck Valley Radiological Associates; Waterbury, CT
Northwest Radiology; Indianapolis, IN
Quantum Radiology; Atlanta, GA
Radiologic Medical Services; Iowa City, IA
Radiology Associates; Corpus Christi, TX
Radiology Associates; Jeffersonville, IN
Radiology Associates of Albuquerque; Albuquerque, NM
Radiology Associates of Macon; Macon, GA
Radiology Associates of Nevada; Las Vegas, NV
Radiology Associates of North Texas; Dallas/Fort Worth, TX
Radiology Associates of Richmond; Richmond, VA
Radiology Associates of Tallahassee; Tallahassee, FL
Rome Radiology Group; Rome, GA
Southeast Radiology, Ltd.; Glen Mills, PA
Tower Imaging Medical Group; Santa Monica, CA
Triad Radiology Associates; Winston-Salem, NC
United Imaging Consultants; Mission, KS
X-Ray Consultants; South Bend, IN