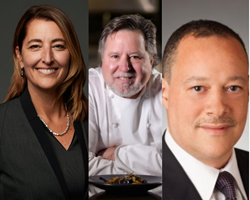 "We are committed to expanding our team's experience across every field within the hospitality ecosystem. We knew that we needed to add Paige, Neil, and Norman to our team because of their commitment to excellence and results," states Bill Scanlon, President and CEO of Strategic Solution Partners.
WEST CHESTER, Pa. (PRWEB) February 25, 2021
Strategic Solution Partners continues to expand its hospitality consulting division with experts in key fields that can bring innovation and change to hotel owners, management companies and restaurants.
Paige Duke is the founder of Duke Consulting, LLC and has a 30-year career in sales and marketing, destination marketing company and conference service. While her main goal is to get results, she finds the most excellent satisfaction in providing resources, positively influencing the sales culture, and providing a roadmap to execute to the teams she advises. Her expertise includes distressed asset sales support, productivity evaluations and sales deployment assessments. Duke previously was a ground floor Director at a privately owned destination management company and grew revenues plus opened offices to become the second largest DMC in the State of Hawaii. Afterwards, she climbed the ranks throughout the Islands to become the Complex Director of Sales and Marketing for four Starwood Hotels in Waikiki plus held area roles with Marriott International and HEI Hotels & Resorts, working with all levels of ownership and property executives.
Norman Van Aken is best known for introducing "fusion" into the lexicon of global cookery. He is also known as "the founding father of New World Cuisine" - a celebration of Latin, Caribbean, Asian, American and African flavors, thus pioneering a new, visionary way of cooking in America. He is the only Floridian Chef inducted into the prestigious James Beard Foundation's list of "Who's Who in American Food and Beverage". He has shared his cooking and career, by authoring six cookbooks and a memoir. He was selected a 2016 Menu Masters Hall of Fame and is a James Beard semi-finalist for "Best Chef in America" and his namesake restaurant NORMAN'S, in Coral Gables, was a finalist for "Outstanding Restaurant in America". He was also a James Beard semi-finalist for his cookbook, "New World Kitchen". He has also appeared on various television shows from CNN's "Parts Unknown" with Anthony Bourdain to "Jimmy Kimmel Live."
Neil Grammer, CPA, is the Executive Managing Member of Grammer & Associates, which provides accounting, audit, and advisory services to hospitality, healthcare and not-for-profit organizations. With over 30 years total experience and 17 in hospitality with Interstate Hotels & Resorts and Marriott International, Neil is well versed in business process design, enterprise risk management, internal control design, IT security, privacy, fraud prevention, corporate investigations, and corporate compliance. Before forming Grammer & Associates, Neil was the Senior Vice President of Audit and Compliance for Interstate Hotels and Resorts, one of the world's largest independent hotel management companies. Outside of work, Neil currently serves as Chair of the HSCSN Health Plan (a managed care health plan for children with special needs in Washington DC) and Vice-Chair of the HSC Health Care System.
About Strategic Solution Partners
Strategic Solution Partners is a Hospitality Solution Provider founded in 2007. Comprised of top tier industry executives focused on providing ownership and management business partners with long term revenue and performance enhancing solutions in both domestic and international capacities. Their services are tailored to their client's specific needs and range from strategic planning and organizational alignment, to consultative experts reaching across the operational disciplines, to interim task force support for management and leadership in sales, marketing, revenue and operations positions. Recognized by Inc5000's as one of the Fastest Growing Private Companies 3 years in a row, and listed as one of Times Financial Fastest Growing Private Companies in 2020, Strategic Solution Partners innovative team, creative problem solving, industry leading talent, and broad range of resources allows their clients to quickly access the solution to their specific need.