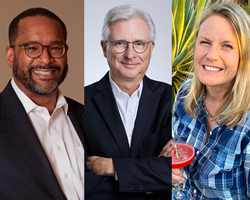 "Hunter, Jim, and Kim all bring a wealth of creativity, leadership, and knowledge in their respective areas. We look forward to the value they will create and the results they will generate for our clients," states Bill Scanlon, President and CEO of Strategic Solution Partners.
WEST CHESTER, Pa. (PRWEB) February 08, 2021
Strategic Solution Partners continues to expand their hospitality consulting division with experts in key fields that can bring innovation and change to hotel owners, management companies and restaurants.
Hunter Webster, CHDM, brings a diverse background of operations, sales, digital marketing, revenue management and business development experience with over 34 years in the hospitality industry. Hunter is currently the President & Managing Partner of Hospitality Resource Solutions, LLC, which provides consultant support services that help organizations in commercial strategy development, digital marketing strategy and analysis, revenue management & pricing evaluation, project management and sales organization effectiveness. Prior to starting Hospitality Resource Solutions, Hunter served as SVP of Revenue Strategy at Interstate Hotels & Resorts. In that role, Hunter led a corporate team of over 55 revenue professionals, responsible for providing strategic revenue direction & support for a portfolio of over 400 full and select service hotels which generated annual revenues in excess of $1.2 billion.
Jim Schultenover has had an expansive career as CMO and President with various public and private companies. With sixteen of those years dedicated to sales, marketing and revenue management, he achieved sustainable, profitable growth results in all positions. His focus continues to focus on sales and marketing strategies and revenue management and channel maximization for Independent properties and emerging companies. He provides solutions to align today's environment with sustainable and profitable demand. Before starting his own business, Jim was President of multiple luxury hotel membership companies, including Krisam Group and Associated Luxury Hotels International (ALHI), in the MICE market and CMO for mostly luxury and boutique companies that included Ian Shrager Hotels and Ritz-Carlton Hotels worldwide.
Kim Haasarud is a nationally recognized mixologist and beverage consultant, working with hundreds of liquor brands, restaurants, and hotels across the country in helping to create successful cocktail and bar programs. Her expertise and skills include bar design consultation, drink development, training, trend analysis, to-go programs and menu design. In addition to consulting with groups such as PF Chang's, Omni Hotels & Resorts, Aimbridge Hospitality and Darden Restaurants, she has worked with dozens of beverage and alcohol brands. Kim has been a judge on Iron Chef America, as well as doing guest appearances on the "The Today Show" and CBS' "Early Morning Show." Kim is the author of the best-selling "101…" cocktail series with Houghton Mifflin Harcourt. Most recently, she was elected as President of the United States Bartenders Guild.
###
About Strategic Solution Partners
Strategic Solution Partners is a Hospitality Solution Provider founded in 2007. Comprised of top tier industry executives focused on providing ownership and management business partners with long term revenue and performance enhancing solutions in both domestic and international capacities. Their services are tailored to their client's specific needs and range from strategic planning and organizational alignment, to consultative experts reaching across the operational disciplines, to interim task force support for management and leadership in sales, marketing, revenue and operations positions. Recognized by Inc5000's as one of the Fastest Growing Private Companies 3 years in a row, and listed as one of Times Financial Fastest Growing Private Companies in 2020, Strategic Solution Partners innovative team, creative problem solving, industry leading talent, and broad range of resources allows their clients to quickly access the solution to their specific need.