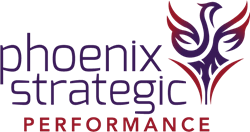 Finding the best people is the first step in the strategic human capital planning process. Continual assessment of every employee against benchmarks is the next step to achieving peak performance.
Phoenix, AZ (PRWEB) January 30, 2016
Today, Phoenix Strategic Performance and Phoenix Group International announce the launch of a strategic partnership. Our respective client organizations are increasingly looking at human capital holistically, from hiring through on-going development. To fill that need, Phoenix Group International (PGI), an executive recruiting firm with over 30 years of experience, and Phoenix Strategic Performance (PSP), a human capital advisory firm with over 27 years of experience, have joined together in a strategic partnership to help companies around the globe.
PSP works with clients to assess the strategic alignment of human capital with business initiatives focused on value creation. They help determine focused performance benchmarks to include role definition and associated competencies. In their proprietary assessment process and human capital gap analysis, they will often see the need for additional professionals to fill key strategic roles in their client organizations. At that point, PSP will work together with PGI on these professional placements. This collaboration works so well because, holistically, PSP understands not only the position, but the culture of the client organization, and then evaluates the cultural 'fit' of the professional for the position.
PGI has an extensive network of clients and candidates at the senior professional level and can work with mutual client organizations to source and place C-Suite and senior-level professionals. In addition, because of the long-standing relationships PGI has with their clients, they can refer PSP to clients when there is a need for a strategic human capital alignment assessment and employee performance development.
PGI and PSP have been working collectively on many projects and are delighted to announce this new collaboration.
"The measure of success for every organization should be maximum value realization for the business focusing on value creation. Human capital is a key lever that will boost organizational performance. In this regard, it is critical to align human capital with strategic initiatives and value creation. Finding the best people is the first step in the strategic human capital planning process. Continual assessment of every employee against peak performance benchmarks is necessary to ensure that every employee in every role with the associated competencies is performing at peak performance levels. From this perspective, as the war for talent evolves into the war to develop talent, the efforts of Phoenix Group International and Phoenix Strategic Performance intersect for robust collaboration focused on value creation," says Joanne Flynn, Founder of Phoenix Strategic Performance.
"At Phoenix Group International, we have always believed that our role was to find the best possible talent for our clients, knowing that the best people, in the best roles, working for the right organization can produce amazing results. In today's world, there are many outlets to source people. Often, the best person, however, is not actively looking on a jobs board, but needs to be sourced. Our role is to source not just a candidate, but the best possible candidate for an organization. That effort goes beyond the job boards." says Stephen Flynn, Founder of Phoenix Group International.
About Phoenix Strategic Performance:
Phoenix Strategic Performance is a business-focused human capital advisory firm bringing an integrated business discipline to human capital performance. We do this through: data and business analytics filtered at multiple levels; strategic insights into your most important asset, your people; and future-focused workforce planning & development capabilities. Learn more: http://www.phoenixstrategicperformance.com
Making Human Capital a Strategic Initiative by Managing Your Human Capital for Value Creation
About Phoenix Group International:
Phoenix Group International is a contingency-based, professional recruitment firm that specializes in the financial services industry. We have been serving clients around the globe for 30 years, helping them recruit and develop world-class talent. We focus our recruiting efforts in private equity, venture capital, alternative assets, investment banking, portfolio companies and corporate development. Learn more: http://www.phxgrpintl.com