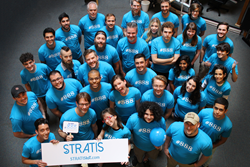 STRATIS is the new industry standard.
PHILADELPHIA (PRWEB) August 17, 2018
Inc. magazine ranked STRATIS No. 888 on its 2018 Inc. 5000, the most prestigious ranking of the nation's fastest-growing private companies. The list represents a unique look at the most successful companies in America.
"I've never been more excited to work a mission," said Felicite Moorman, STRATIS CEO. "I'd like to think all of us want to change the world growing up, and our Team at STRATIS is here to do just that. Our mission to make technology accessible, ubiquitously across MultiFamily, impacts and improves lives and the environment, without regard to demographic. And for the STRATIS Team, this recognition is just the beginning!"
STRATIS is an Intelligent Building platform that also enables Smart Apartments. Over 250,000 apartments on nearly 900 properties already realize operational and energy efficiencies with the STRATIS Property Management Platform and STRATIS Mobile App. STRATIS is installed across the United States and Japan.
STRATIS is the only platform that integrates all access points on a property, from entryway through common areas and amenities, and finally through the Resident door, using a single mobile application. It is the first and only "sidewalk to sofa" solution in the MultiFamily and Student Housing industry. While STRATIS began as an energy management and control platform, CEO Felicite Moorman attributes their success to the combination of addressing these unique operating needs and leading the subsequent Smart Apartment movement.
"STRATIS is a product and a platform," said Moorman. "No one can address all of the unique needs in this space independent of strategic partners, and we're fortunate to have the most innovative partners in the industry. Samsung, Schlage, Honeywell, Nest, and Leviton, amongst others, understand that the right solution for MultiFamily and Student Housing has to provide more than just a "Smart Apartment." It must enable a connected, Intelligent Building. Our goal is ubiquity."
STRATIS is the new industry standard. Find out why the most in-demand properties in the country choose STRATIS. Schedule a demo today: STRATISIot.com/get-demo/
About STRATIS:
STRATIS, also named one of Entrepreneur Magazine's "Best Companies in America," enables Smart Apartments and Intelligent Buildings. STRATIS is the only system of its kind built for the complexities of MultiFamily and Student Housing. Since launch in 2015, STRATIS has installed in nearly 250,000 units across the U.S. To get more information visit: STRATISIoT.com.
About Inc. Media:
Founded in 1979 and acquired in 2005 by Mansueto Ventures, Inc. is the only major brand dedicated exclusively to owners and managers of growing private companies, with the aim to deliver real solutions for today's innovative company builders. Winner of the National Magazine Award for General Excellence in both 2014 and 2012. Total monthly audience reach for the brand has grown significantly from 2,000,000 in 2010 to over 18,000,000 today. For more information, visit http://www.inc.com.
The Inc. 5000 is a list of the fastest-growing private companies in the nation. Started in 1982, this prestigious list of the nation's most successful private companies has become the hallmark of entrepreneurial success. The Inc. 5000 Conference & Awards Ceremony is an annual event that celebrates their remarkable achievements. The event also offers informative workshops, celebrated keynote speakers, and evening functions.