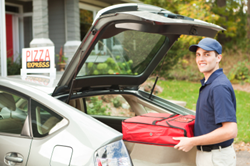 The acquisition of the Willis retail book of business now makes Stratton Agency a significant player in the pizza industry on a national level
San Carlos, CA (PRWEB) March 21, 2014
Stratton Agency, an independent insurance brokerage, is proud to announce the acquisition by their PizzaSurance division of the Willis Insurance Services retail pizza program. This purchase includes hundreds of pizzeria clients in 38 states across the country.
PizzaSurance by Stratton Agency is a customized insurance portfolio for the busy pizza delivery restaurant. The PizzaSurance team understands the difficulty of the non-owned auto insurance requirements for these operations. At the forefront of this revolutionary program is PizzaSurance's dedication to improving driver compliance management.
"The acquisition of the Willis retail book of business now makes Stratton Agency a significant player in the pizza industry on a national level," says Jesse Parenti, PizzaSurance Program Director. "Through the relationship with our technology partner, Applied Systems, we have developed the next generation of risk management for the delivery industry."
Collaborating with industry leader Applied Systems, Stratton Agency has developed a cloud-based driver compliance platform for pizzerias with delivery exposures. This on-line platform improves efficiency and allows clients to effortlessly on-board new drivers, as well as risk-manage all drivers using enhanced monitoring features.
"As our industry continues to change, insurance agencies and brokerages are leveraging Applied Epic to innovate their businesses," said Reid French, CEO, Applied Systems. "We have a longstanding partnership with Stratton Agency and are very pleased to provide the technology platform for this new offering to the pizza delivery market."
Since 1914, Stratton Agency has been a leading provider of insurance brokerage, risk management and insurance technologies to businesses and individuals nationwide. Their team, and exceptional operational experience, has earned them the distinction of a 2013 IIABA "Best Practices" insurance agency. This honor has become a prestigious recognition of the superior accomplishments of the top insurance agencies in the country.
Applied Systems is a leading provider of software that powers the business of insurance. The company is recognized as a pioneer in agency and brokerage management systems and data exchange between agencies, brokers, carriers, and their clients. By automating the insurance lifecycle, Applied Systems software enables millions of people around the world to safeguard and protect what matters most.
For additional information, please visit http://www.pizzasurance.com or contact Jesse Parenti at 888-888-4501 or jesse(at)strattonagency(dot)com.