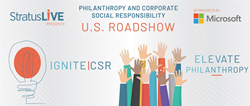 "I'm excited for StratusLIVE to present these events alongside our sponsor, Microsoft. We are dedicated to providing resources for those within all aspects of the philanthropic space to achieve their missions efficiently and effectively." - Debbie Snyder, Group VP, CSR Solutions and Marketing
VIRGINIA BEACH, Va. (PRWEB) October 08, 2019
StratusLIVE, a leading provider of cloud-based solutions for nonprofits, companies, foundations, and workplace federations, announced today the schedule for their upcoming US roadshow. This roadshow is a two-day, four-city event designed for individuals working within philanthropy and corporate social responsibility (CSR).
The first event, Ignite CSR, invites professionals working within corporate philanthropy to discuss the business case for CSR, share insights on the challenges and opportunities of CSR, and learn proven methodologies regarding the power of leave sharing/ PTO giving. Elevate Philanthropy, the second event, invites professionals from the nonprofit sector to discuss best practices in donor engagement, fundraising, and marketing automation.
"I'm excited for StratusLIVE to present these events alongside our sponsor, Microsoft. We are dedicated to providing resources for those within all aspects of the philanthropic space to achieve their missions efficiently and effectively. Attendees will leave feeling inspired and ready to implement new and improved strategies within their organizations," said Debbie Snyder, Group Vice President, CSR Solutions and Marketing.
Some of the speakers on the roadshow include: Adam San Miguel, Strategic Engagement Manager Tech for Social Impact at Microsoft, Amin Tehrani, Managing Director, Revunami, INC., Linda Gornitsky, President and Founder of LBG Associates, Gary Carr, CFO & COO, RightGift, Steve Greenhalgh, Principal, CSR Matters Consulting, and Kevin Wilhelm, CEO, Sustainable Business Consulting. The event begins October 22 in New York and concludes on November 13 in Seattle.
For details on locations, speakers, and how to register for Ignite CSR please visit: https://stratuslive.com/csr-solutions/events.
For Elevate Philanthropy, please visit: https://stratuslive.com/nonprofit-solutions-events.
About StratusLIVE, LLC
StratusLIVE, a leading provider of cloud-based solutions, is committed to serving nonprofits, companies, foundations, and workplace federations in their goal to reach a greater impact for social good. The StratusLIVE suite includes StratusLIVE 365, Enterprise CRM for Nonprofits, which features enterprise-class relationship management, business intelligence, analytical marketing and online fundraising for nonprofit organizations and StratusLIVE Ignite, CSR for Companies, which creates exceptional user experiences and manages workplace giving and volunteer campaigns more effectively than ever before. The entire product suite is powered by the Microsoft Dynamics 365 platform and available in the worldwide Microsoft Cloud. StratusLIVE is headquartered in Virginia Beach, Virginia, with offices throughout the United States.