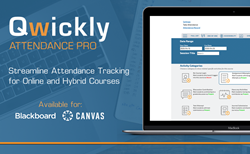 Qwickly has developed a new attendance mode, Online Activity Mode, aimed specifically at streamlining the process of taking attendance for online and hybrid courses.
CLEVELAND (PRWEB) July 31, 2020
Qwickly Attendance Pro, part of the Qwickly Attendance Family of products, continues to add new capabilities, making attendance recording and participation tracking a quick, easy process for schools using Blackboard Learn, Canvas, and D2L Brightspace.
Qwickly Attendance Pro provides advanced reporting capabilities, with features like student groups, consecutive absence reporting, and more, that drill into attendance data by class, by student, by instructor and by specific time period.
By popular demand from clients, Qwickly has developed a new attendance mode, Online Activity Mode, aimed specifically at streamlining the process of taking attendance for online and hybrid courses, while complementing other existing attendance tracking modes in the platform. Online Activity Mode was designed to comply with federal aid guidelines surrounding what constitutes attendance in an online course. According to the Federal Student Aid Handbook (2019-20), section 5-60; "Documenting attendance when students are enrolled in distance education courses:"
"In a distance education context, documenting that a student has logged into an online class is not sufficient, by itself, to demonstrate academic attendance by the student. A school must demonstrate that a student participated in class or was otherwise engaged in an academically related activity, such as contributing to an online discussion or initiating contact with a faculty member as a course-related question.
Examples of acceptable evidence of academic attendance and attendance at an academically-related activity in a distance education program include:

Student submission of an academic assignment,
Student submission of an exam,
Documented student participation in an interactive tutorial or computer-assisted instruction,
A posting by a student showing the student's participation in an online study group that is assigned by the institution,
A posting by the student in a discussion forum showing the student's participation in an online discussion about academic matters, and
An e-mail from the student or other documentation showing that the student initiated contact with a faculty member to ask a question about the academic subject studied in the course."
In accordance with these guidelines, attendance for online courses is often tracked by looking at the different academic activities a student has been asked to complete during a specific time period. However, the amount of work required by an instructor to look through all of these types of assignments is tedious, time-consuming, and still requires an entry point.
Online Activity Mode addresses these issues by allowing instructors to automatically derive attendance statuses for students based on academic activity within the learning management system course. When using Online Activity Mode, an instructor selects the relevant activities that students should have completed during a given period of time. Online Activity will then automatically check to see if students have completed the assigned activities and will record attendance, based on the completion of assignments (along with notes about the activity of the student), in the Qwickly Attendance record.
Deborah Spiro, Ed.D., Assistant Vice President of Distance Education at Nassau Community College, was looking for a product that would streamline the attendance taking process for online and hybrid courses at her institution. Their objective was to "automate [the online attendance] process within the LMS." When asked about her experience with Online Activity Mode, Spiro said, "Qwickly devised a really simple, three step solution. The instructor would choose the date range, the academic activities (such as an assessment in Blackboard, a discussion, an assignment), and then Qwickly did the rest. [Online Activity Mode] provided the attendance data by automatically marking [students] present or absent based on that activity. [Online Activity Mode] has been so helpful. Faculty have wanted to come on board with online [classes] just for this tool alone to manage the efficiency of what would be a mundane chore."
Learn more about Online Activity Mode or schedule a demo today.