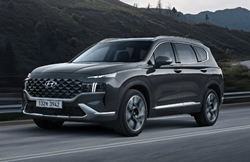 AVONDALE, Ariz. (PRWEB) March 11, 2021
Hyundai shoppers who are looking to get behind the wheel of a new vehicle without having to leave the comfort of their home will find the online shopping tools on the Earnhardt Hyundai of Avondale website more than helpful. The local Hyundai dealership continues to offer streamlined online shopping tools to help local customers shop for their next vehicle online with ease.
Earnhardt Hyundai of Avondale puts the power in the shopper's hands with its suite of No Bull Express online tools. No Bull Express allows customers to complete every step of the automotive purchase or lease process online without having to come by the dealership. From browsing to financing to approval and signing, the entire process from start to finish can be done on the Earnhardt Hyundai of Avondale website.
Along with easy-to-use online shopping tools, Earnhardt Hyundai of Avondale will bring vehicles to the homes of perspectives buyers for a test drive. After picking out the perfect vehicle, finalizing the deal and signing the purchase agreement, Earnhardt Hyundai of Avondale will deliver the new vehicle directly to the buyer's driveway.
Individuals looking to trade in their current vehicle before picking out a new model can take advantage of Earnhardt Hyundai of Avondale's in-home trade appraisal. The Earnhardt Hyundai of Avondale team will appraise a trade-in's value online or at the owner's home in just a few easy steps.
Anyone can view the entire Earnhardt Hyundai of Avondale catalog of vehicles on the dealership's website, earnhardthyundai.com. Members of the Earnhardt Hyundai of Avondale staff are available by phone, 833-331-0148, to offer assistance through any step of the purchase process. Prospective buyers who start their purchase online but wish to finish in person can come by the dealership anytime during normal business hours to finalize their purchase. Earnhardt Hyundai of Avondale is located at 10401 W Papago Fwy in Avondale, AZ and is open seven days a week.