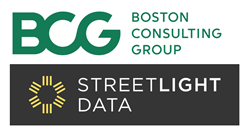 SAN FRANCISCO (PRWEB) July 23, 2020
StreetLight Data, Inc., and Boston Consulting Group (BCG) today announced their strategic partnership to empower the transportation industry to make faster decisions, based on empirical data, amid the unprecedented volatility of travel patterns and preferences resulting from COVID-19. The companies' strategic partnership agreement builds on their respective track records serving clients in the public and private sectors, solving a variety of urban mobility challenges.
In one of the first joint efforts of the partnership, StreetLight and BCG used advanced data analytics to study vehicle miles traveled (VMT) on US roadways since the beginning of March 2020, before states began imposing stay-at-home orders, and created a Trip Reduction Index to measure adherence to lockdown policies in each state, county, and metropolitan statistical area (MSA).
Key index findings include:

From the beginning of March through April 7, the national average drop in VMT was 72%.
Since then rural counties have fully recovered to pre-COVID levels while urban counties are still in recovery at about 90%.
That number varied by MSA and state, with the New York, New Jersey and Connecticut tristate area and Washington DC initially seeing drops of 80% to 90%, while states including Texas and Alabama saw drops of only 50% to 60%.
Population density is a big driver -- urban counties saw a VMT reduction that was about 20-30 percentage points higher on average than that of rural counties.
The top three correlating factors to the VMT reduction profile are household income, population density, and prevalence of professional service jobs, all of which are higher in urban areas than rural.
Since Easter Sunday, all US counties have seen a steady recovery of VMT, with the ones experiencing a lower drop in March also recovering more quickly since the low point. The counties that experienced a smaller drop in March also recovered more quickly from the low point. These numbers vary substantially by county, illustrating the importance of empirical VMT data to allow cities, departments of transportation, and private mobility providers to manage transportation system supplies in a way that responds to travel demand.
"Sound mobility decisions begin with sound data. We're excited about fusing our data with BCG's vast strategic resources to solve the world's biggest mobility problems, impacting everything from our daily commutes to our climate," said Laura Schewel, CEO and co-founder of StreetLight Data.
"COVID-19 has dramatically increased the need for mobility data analysis to understand travel patterns and modal choices during the different stages of lockdown and reopening," said Augustin K. Wegscheider, a partner at BCG and leader of the firm's Center for Mobility Innovation in North America. "We're proud to partner with StreetLight to help the public and private sectors navigate the transportation challenges and opportunities of the post-COVID-19 world."
Additionally, the Streetlight–BCG partnership will focus on helping cities prepare to adopt micromobility and autonomous vehicles using StreetLight's big data resources to move beyond the limitations of traditional mobility measurement, inform strategy for the scale deployment of these new offerings, and design services around them. Urban logistics, a key contributor to congestion in city centers, is another area of focus; BCG and StreetLight will work with municipalities, as well as logistics and transportation providers and their large customers, to optimize the flow of goods through dense urban areas.
About StreetLight Data
StreetLight Data, Inc. pioneered the use of Big Data analytics to help transportation professionals solve their biggest problems. Applying proprietary machine-learning algorithms to over 100 billion location data points every month, StreetLight measures multimodal travel patterns and makes them available on-demand via the world's first SaaS platform for mobility, StreetLight InSight®. From identifying sources of congestion to optimizing new infrastructure to planning for autonomous vehicles, StreetLight powers more than 3,000 projects every month.
About Boston Consulting Group
Boston Consulting Group partners with leaders in business and society to tackle their most important challenges and capture their greatest opportunities. BCG was the pioneer in business strategy when it was founded in 1963. Today, we help clients with total transformation—inspiring complex change, enabling organizations to grow, building competitive advantage, and driving bottom-line impact.
To succeed, organizations must blend digital and human capabilities. Our diverse, global teams bring deep industry and functional expertise and a range of perspectives to spark change. BCG delivers solutions through leading-edge management consulting along with technology and design, corporate and digital ventures—and business purpose. We work in a uniquely collaborative model across the firm and throughout all levels of the client organization, generating results that allow our clients to thrive.