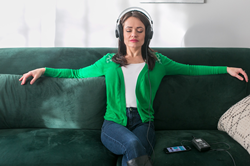 "Now is the time to get back to basics, practice self-care, and find calm amidst the chaos. The Listening Program® is a useful tool for brain wellness. ~ Alex Doman, Founder of Advanced Brain Technologies
LOS ANGELES (PRWEB) April 01, 2020
Now more than ever, Americans are mentally and emotionally strained due to the current pandemic beneath their feet. The new "norm" has so many feeling on edge and challenged by the repetition of daily life on lockdown. Advanced Brain Technologies' award-winning and neuroscience-based online music therapy, The Listening Program®, is not only here to help but also being offered for FREE.
The Listening Program®, backed by 75 years of clinical experience and peer-reviewed scientific research, helps improve focus, learning, listening, communication, and self-regulation. Acoustically-modified music, found throughout the program, has helped over 1 million children and adults in 40 countries worldwide. By using the technology for only 15 minutes each day, users can transform their brains, minds, and bodies through the power of music.
The Listening Program® proven benefits include:

Stress reduction
Immunity boost
Improved resilience
Enhanced brain function
Reset fight/flight fear response
Promote peace and balance
Improved energy levels
As a way to give back during this time of global fear and uncertainty, The Listening Program® is waiving the $99 cost of its introductory TLP Shift60 program through April 30. TLP Shift60 is a two-month protocol of music listening therapy to guide listeners closer to feeling centered, calm, focused, and overall connected.
"With COVID-19, people are experiencing an unprecedented amount of fear, stress, and uncertainty. Now is the time to get back to basics, practice self-care, and find calm amidst the chaos. The Listening Program® is a useful tool for brain wellness. In just 15 minutes a day, you can put on a pair of headphones, press play on your smartphone, and listen to our scientifically-proven streaming music protocols and reset your nervous system. The Listening Program® can move adults, teens, and children away from just surviving to thriving, helping them reset, get perspective, find peace, and take back control of their lives." ~ Alex Doman, Founder of Advanced Brain Technologies
For sake of convenience, The Listening Program® can be streamed on computers, tablets, or smartphones direct through headphones.
Click here to start The Listening Program® for FREE and please share this information with those who need it.
More information on The Listening Program® and its founder, Alex Doman, can be found on their website.
PR Contact:
Jade Umbrella
Stacey Barker
stacey@jadeumbrella.com
323.833.8358