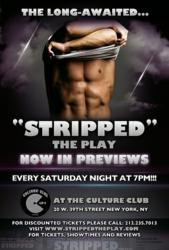 Our show is great when looking for bachelorette party themes and it's perfect to spice up all bachelorette party games" said writer and director Steve Stanulis. "Every bachelorette in New York City looking for a fun girls night out should come to our show
New York, NY (PRWEB) July 10, 2013
The much anticipated Off-Broadway play "Stripped" comes back to New York City this Friday, after concluding a critically acclaimed run in Las Vegas. This original production that combines a steamy Chippendale show with witty theatrical monologues will premiere at the XL Nightclub in the Out Hotel on July 12th at 7:30 p.m.
"Stripped" is a hilarious comedy about the experiences of its writer and director, Steve Stanulis, during the time of his life when he was as a NYPD officer by day and male stripper by night. The play revolves around Stanulis' character, Steve Savage, who has decided to settle down and leave the g-strings behind.
Different from most Off-Broadway Plays, "Stripped" has something to offer to all kinds of audiences; not only female or gay, but straight as well. The show lights up the stage as the spectators enjoy a mixture of humor and sensuality, dancing and acting, great dialogues and electrifying choreographies.
The show premiered in 2012 and it subsequently ran in Las Vegas for several weeks. The cast will feature Brenton Duplessie as Steve Savage, Brett Azar as Brock "The Cock" Hammer, Darnell Wickham as Black Mamba, Alejandro De La Sen as Julio Santana, and Brian Carpenter as Wild Wayne.
"Our show is great when looking for bachelorette party themes and it's perfect to spice up all bachelorette party games," said writer and director Steve Stanulis. "Every bachelorette in New York City looking for a fun girls night out should come to our show this weekend."
Anyone can find out more information about "Stripped" and its special promotions on Facebook at facebook.com/StrippedThePlay and Twitter users can also follow the show via @StrippedThePlayNYC to get exclusive scoops about the cast and crew, as well as tickets and showtimes.
Please feel free to call (212) 235 – 7013 to ask about the 2 for 1 Special Summer Promotion or to find out more about group events, parties, girls night out NYC, bachelorette parties and Off Broadway Shows NYC. To buy tickets today please to go to strippedtheplay (dot) com
About "Stripped The Play"
"Stripped The Play" is a unique Off Broadway play which delves into the highly entertaining world of male exotic dancing while also thrilling audiences with breath-taking theatrics. The play is a critically-acclaimed success and adds a comedic story-telling twist to exciting male dance routines for an experience audiences simply won't forget in a hurry. "Stripped" has received positive reviews from leading critics, including reviewers from the NY Times and NY Theater. "Stripped" cast member and producer Steve Stanulis, also the host of the TV/radio show "In the Life, with Steve Stanulis", adds a unique perspective to the show as a former New York City police officer. "Stripped" is a great way to enjoy highly entertaining night-outs when in and around NYC.