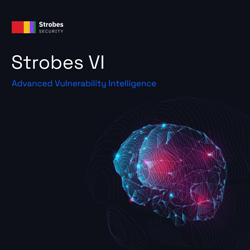 Strobes and Strobes VI helped us reduce 3 months of manual effort.
PLANO, Texas (PRWEB) May 10, 2022
Strobes Security announced today the availability of Strobes Vulnerability Intelligence (VI), a threat intelligence tool. Strobes VI is the result of two years of research and development work with the goal of creating the best VI correlation tools that ingest vulnerability data from 30 different advisories, Indicator of Compromises (IOCs) and over 100 feeds including trend analysis from Twitter.
Strobes Security's flagship product, Strobes VM, provides customers with a better way to prioritize vulnerabilities. With the introduction of predictive prioritization, Strobes was able to quickly help customers find and patch the top critical vulnerabilities in their organization. For the prioritization to work accurately and provide the best results, maintaining and integrating with an advanced vulnerability intelligence tool (Strobes VI) was of the utmost importance.
Akhil Reni, Strobes Security CTO, explains the value of this data: "Data from Strobes VI helps us to quickly identify whether discovered vulnerabilities have a publicly available exploit, a zero day, if a vulnerability is converted into an exploit kit for ransomware, or malware attacks." Existing Strobes Security customers are already experiencing significant improvements in the way the platform manages priority scores.
For example, the Strobes Security team created a patch plan for a large healthcare company in Australia with 1,000 critical vulnerabilities inside a haystack of 500,000 vulnerabilities. These efforts resulted in reducing three months of manual effort.
Strobes VI also correlates with different taxonomies like Open Web Application Security Project® (OWASP), Common Attack Pattern Enumeration and Classification (CAPEC), Web Application Security Consortium (WASC), and compliance frameworks like the National Institute of Standards and Technology (NIST). Strobes Security's objective is to continuously maintain and upgrade the Strobes VI to support more IOC feeds, APT references, Taxonomies, and compliance frameworks.
For the next 4 months, Strobes VI will be available as a public API for anyone to connect with to stay up to date on Vulnerability Intelligence at no cost. Freemium options will be available at the official product launch. Access Strobes VI: (https://www.strobes.co/blog/introducing-strobes-vi)
About Strobes Security
Strobes Security develops products and solutions for all organizations to solve challenges in the vulnerability management space using security automation and predictive prioritization. The current product offerings include Strobes VM365 and Strobes DevSecOps. Additional services are available including Strobes PTaaS (Pen Testing as a Service).