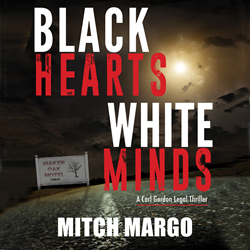 This is not just an audio book. It feels like you're listening to a fast-paced radio drama.
LOS ANGELES (PRWEB) October 09, 2018
"Black Hearts White Minds" has been striking a nerve in both black and white communities since its publication earlier this year. Honouring the core of the story, a talented cast of eight now performs the thirty characters, bringing it vividly to life as an audio book that pushes into the audio drama category.
Already the novel, published in January, has won three book awards. Penned by debut author Mitch Margo, a speaker and St. Louis trial lawyer, the rivetting story has been performed by an outstanding multi-racial cast and produced by an award-winning production team. The new release is making its debut on Audible, the premiere audio download service.
"I'm thrilled with the cast, the production value, and the entire sense of my story lifting off the page into an exciting performance," Margo commented. "The terror and injustice and ignorance in the novel is met by the courage of the characters, and this comes through dynamically in the new audio. This is not just an audio book. It feels like you're listening to a fast-paced radio drama."
Author Mitch Margo researched the early 1960s in depth for seven years before writing Black Hearts White Minds. "I never imagined that the book would be so relevant today. Prejudice has again reared its ugly head, and so has angry retaliation," said Margo. "But so have meaningful dialogues and significant breakthroughs. I'm gratified my book is now part of the national conversation about these vital issues."
Jo Lena Johnson, founder of Mission Possible Press, also in St. Louis, found the book to be so important that she made room for it in her busy publishing schedule.
"As a black woman, I was skeptical that a white man could tell a story of prejudice in America authentically. But when I read the manuscript, I realized it had a sense of justice, of equality, and of hope. That message is important. I felt my perspective and expertise could help bring this story to readers."
"Jo Lena's leadership and commitment helped to make this book possible," Margo confirmed. "Perhaps in forging an author-publisher partnership, we're modelling some of the ideas in the book."
The next step in the publishing process was to plan for an audio book, and both Johnson and Margo knew it would have to be produced by someone with both expertise and sensitivity. The team tapped veteran audio producer Mara Purl, who has produced award-winning radio dramas, audio dramas and audio books.
"I knew the only way to present this book was to let the characters tell the story in their own voices," Purl said. "It turns out our decision to voice the book with several performers is part of a cutting-edge trend. The new James Patterson-Bill Clinton audio book has six performers; we have eight, and we added sound effects to the climactic scene, taking the project into a new 'hybrid' realm of audio production."
The audio, is available in downloadable form from Audible.com and on physical CDs through the author's website.
In the story, the year is 1964 and Carl Gordon is an ill-prepared New York Assistant U.S. Attorney who has lied his way into a transfer to Stockville, Alabama, where he is supposed to monitor and enforce the Civil Rights Act. He has no idea what he is getting himself, and his 12-year-old son, into in the segregated South.
In a matter of days, the Ku Klux Klan takes aim at him, the outside agitator. Carl has agreed to represent Oleatha Geary, a black family matriarch who has inherited a mansion in an all-white, race-restricted neighborhood. Carl and Oleatha are engulfed in litigation that turns deadly. Meanwhile Oleatha's daughter Lenore, and Carl, find themselves in a budding romance that's opposed by everyone, white and black.
The Cast Includes (in alphabetical order)
David Benjamin Bliss, a busy Audible narrator known for The Redemption Trilogy and many other titles. William Berkuta, veteran audio engineer and background audio performer, Bridget Sullivan, and Jo Lena Johnson. Lewis Davis and international touring singer S. Omar Marshall play brothers, and their mother Oleatha, the matriarch of the story around whom much of the plot revolves, is played by Shellie Gaines. Kevin Whittington plays the grandson, who concludes the story as the inheritor of its legacy.
Handling lead roles are three more actors. Mara Purl, who narrates the book, plays the female protagonist and other roles, is an Audible narrator and has voiced multiple fiction and non-fiction audios. She co-starred in her BBC Radio drama Milford-Haven USA,.is a well-known voice in national commercials, and on TV she is best known as Darla Cook in Days of Our Lives. On stage she's known for starring roles in Sea Marks, Mary Shelley In Her Own Words, and Becoming Julia Morgan. Previous awards for her narration performances include a Benjamin Franklin Audio Award and a USA Book News Audio Award.
Rashid Silvera voiced Pastor Williams, the spiritual center of the story, and Benny Elsberry, an icon of success who becomes the victim of horrific racism. "The story spoke to my soul," remarked Silvera, a veteran performer, and an educator with an M.T.S. degree from Harvard Divinity School and an Ed.M. degree from Harvard Graduate School of Education, who has taught at several schools, with Scarsdale High School in Scarsdale, New York, having been his teaching career home since 1981. But Rashid is also a renowned model who became the fourth black male model to appear on the cover of GQ magazine, also appearing on the covers of Essence magazine and CODE magazine, and he was the first African American male to model for a Polo Ralph Lauren advertisement campaign.
David Rosenblatt, who voiced protagonist Carl Gordon, was trained as a Gestalt Therapist and brought this in-the-moment passion to bear as the main character Carl Gordon. In addition to audiobooks, David has done stage work, film work, music recordings, and creative design. He plays two leading characters on stage in ongoing productions of Becoming Julia Morgan.
Engineer Bill Berkuta edited and mastered the audio project at Afterhours Recording Company in Los Angeles. Performers recorded both at Afterhours Recording in L.A., and at Buttons New York in New York City, with engineers Jeremy Goldsmith, Chi Lee, and Phil Prevete.
Nick Zelinger of NZ Graphics, the cover designer for both the book and the audio, has been a book designer for 30 years. He and his clients have won more than 100 national and international book awards.
Press & Endorsements:
"Black Hearts White Minds dives deep into the Civil Rights movement in the American South at a crucial time: 1964. But Mitch Margo sets his first novel in one Alabama town, allowing him to explore the era on a distinctly human scale through ordinary people and not so ordinary events. The result is a book that feels personal, rather than monumental. Margo, a seasoned lawyer who makes the law and lawyering an important but not overriding element of his story, has a knack for dramatic structure and a sharp eye for contrasting, engaging personalities. And his plot twists manage to be simultaneously startling and entirely credible, no mean feat."
-Eric Mink, Writer, The Huffington Post
"The early sixties are often thought of as a time of lost innocence. Margo reminds us that the era was anything but innocent in the American south. His novel rings with authenticity and his characters' struggles in the fictional town of Stockville, Alabama foretell the problems we still face today. Stockville is not really so far from Ferguson."
– Bill McClellan, St. Louis Post-Dispatch
"While a work of fiction, Black Hearts White Minds transports readers to a time and place in American history, 1964 small-town Alabama, when the Civil Rights movement was slowly gaining traction, and segregationists, including the Ku Klux Klan, would stop at nothing to trounce the efforts of blacks and whites fighting for justice. Margo has crafted a narrative that is equal parts engrossing, heartbreaking and hopeful, populated with richly drawn, compelling characters, and an overarching essence that captures the enduring nature of the human spirit, no matter the obstacles."
-Ellen Futterman, Editor, St. Louis Jewish Light
"As I read Black Hearts White Minds, I was reminded by turns of Harper Lee, Willie Morris, and John Grisham. Like Grisham, Mitch Margo is an attorney; like Morris, he's a former journalist, and like Lee, his writing is evocative with a moral center straight and true. With our new president publicly insulting Civil Rights icon John Lewis and the new administration looking to reverse 50 years of progress, this Civil Rights era page-turner is a must read."
-Richard H. Weiss,
Former Daily Features Editor, St. Louis Post-Dispatch
Black Hearts White Minds on Amazon
PR Contact: Reya Patton, Haven Books 818-813-7429 Reya(at)HavenBooks(dot)net
Visit MitchMargo.com
Visit https://www.facebook.com/AuthorMitchMargo/