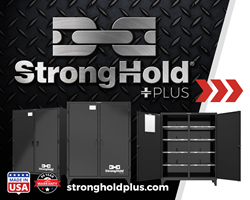 "Our customers spoke and we listened. The result is a new product line..."
Louisville, KY (PRWEB) October 20, 2017
Strong Hold announces the launch of its first new product line in over 20 years with Strong Hold Plus™.
For many years Strong Hold® has been the premier manufacturer of heavy-duty industrial storage. This is an honor we take pride in, but it also comes with a responsibility to continue to provide our customers with the highest quality solutions. Strong Hold is the name people trust when it comes to building an effective, secure, seriously strong industrial storage solution. As such, we are always asking our customers how we can improve.
Our customers spoke and we listened. The result is a new product line consisting of our most popular options and modifications consolidated into what we're calling Strong Hold® Plus™ industrial cabinets. The Plus industrial cabinets are a much more finished solution in terms of how our customers ultimately use them and the method in which customers can further personalize them is more streamlined.
Strong Hold Plus industrial cabinets include our same standout features such 12-gauge steel, all-welded, wrap-around body, heavy-duty leaf hinges and fully assembled construction in addition to a number of Plus line specific features, including but not limited to:

Galvanized shelves increase light reflectivity within the cabinet making everything naturally brighter
Shelf dividers and magnetic shelf labels gives everything a place and keeps everything in its place
Exterior label allows everyone to quickly identify the purpose of the cabinet
A dry-erase board gives users the ability to keep track of contents using KANBAN methods or simply keep track of daily notes
The standard black cabinet can be upgrades at no additional cost or lead time to one of six other colors
The Strong Hold Plus industrial cabinet color upgrade program lends itself to more than simple aesthetics. Visual management is becoming an increasingly popular methodology to organize industrial spaces while increasing process efficiencies. Coloring cabinets in different colors based on function allows users to easily access where parts or tools are stores and eliminates the need to waste time searching through identical cabinets minutes at a time. The gains may seem inconsequential, but in fact the contrary is true.
Let's say, for example, you save 1 minute on a 6-minute process. Whereas before you could only complete 10 of these processes in 1 hour, now we can complete 12. In an 8-hour work day, that's a gain of 16 more processes, which is a whopping 20% increase in efficiency! Other standard features such as the shelf dividers and labels are provided with this increase in efficiency in mind. The Strong Hold Plus industrial cabinet line was designed specifically with these kinds of improvements in mind; to eliminate the need for further modification at the customer's site by providing these improvements on the front end.
Strong Hold Plus industrial cabinet line is available with an assortment of options including ventilated or Clear View doors, laser burn lettering for labeling cabinets, integrated power strip, shelf bins, Bluetooth® enabled padlocks, and multiple magnetic tool attachments, shelves, paper towel and glove dispensers all geared toward increasing modular flexibility of cabinets.
Strong Hold Plus industrial cabinets come in multiple sizes and are available now. Control the Chaos™ and engineer your own cabinet from size, color, door options, and accessories at http://www.StrongHoldPlus.com.
Be on the lookout for further product categories to come under the Strong Hold Plus™ name, including drawer cabinets, shop tables and workbenches.