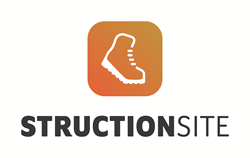 StructionSite provides the most sophisticated project tracking platform on the market, with workflows that combine decades of jobsite knowledge with state of the art AI capabilities.
OAKLAND, Calif. (PRWEB) January 19, 2022
StructionSite, Inc., the leading provider of intelligent project tracking software for the construction industry, today announced $10 million in funding that includes new institutional capital from 500 Global, who led the round, as well as strategic investments from PCL Construction and GS Futures and strong participation from other existing investors. After using StructionSite in the field, these construction leaders recognized the platform's potential to help builders through bleeding edge technology designed around their specific needs. The new funds will be used to expand StructionSite's platform capabilities and extend its leadership position in the market. The company also announced its latest partner integration with Latium Technologies. StructionSite's project tracking data can now be seamlessly incorporated into Latium's Job Site Insights(R) (JSI) Smart Construction platform.
"StructionSite has developed incredibly advanced technology solutions, designed by builders, for builders," said John Boktor, Manager of Digital Construction at PCL. "It's technology with purpose, delivering the information project teams need, when they need it, in a really elegant way. As a result, teams can dramatically increase productivity and efficiency, reduce job costs and waste, as well as create a collaborative environment. Based on our experiences as a customer, we've seen how StructionSite is driving the transformation of the construction industry."
Partners in Innovation
StructionSite provides the most sophisticated project tracking platform on the market, with workflows that combine decades of jobsite knowledge with state of the art AI capabilities. In addition to its current industry-leading photo and video site documentation capabilities, StructionSite has developed technology to help specialty and self-perform contractors automate production tracking to drive even more efficiency for the industry.
StructionSite is also the most open platform in the space. It operates under the belief that partner integration is the key to successful innovation across the construction industry. By working with a slew of technology partners, including Procore, Autodesk, NewMetrix, as well as document management systems like Dropbox and Box, StructionSite ensures that systems function seamlessly and that all technology investments are fully utilized.
The new integration with Latium brings StructionSite's project tracking capabilities, as well as photo and video site documentation, into the industry leading smart construction platform, Job Site Insights, to power the "smart jobsite" of the future.
"The construction industry is evolving rapidly into one dependent on new technologies to eliminate inefficiencies," said Latium Technologies CEO Mark Bryant. "Together, Latium and StructionSite can provide all of the data and insights needed to maximize ROI, enhance safety measures, mitigate rework, and streamline workflows in an elegant and understandable way."
Since launching its platform in 2017, customers have used StructionSite technology to capture over $190B of construction volume, providing them with unparalleled documentation and insights related to both progress and quality. Builders looking for a competitive edge are turning to StructionSite to increase profitability and overall efficiency of their project teams, which has spurred rapid customer adoption and 3x year-over-year growth in active projects.
"We've been tracking StructionSite's impressive progress ever since we first invested in the company in 2018 and they were part of our accelerator. Matt, Philip and the team have surpassed our expectations for growth, product development, and market penetration. They deeply understand the nitty gritty of managing construction projects and have the potential to modernize a trillion-dollar industry," said Christine Tsai, CEO and Founding Partner of 500 Global.
"After working in the trenches, we knew that technology could be used to transform a number of construction processes, so we set out to build a different kind of ConTech company, one built to solve real-world problems while helping to move organizations, people, and projects into the future," added StructionSite CEO and Co-founder Matt Daly. "We are executing on this vision, and now with the backing of PCL Construction and GS Futures, and the ongoing support of 500 Global, we can accelerate our plans. By partnering with leaders in construction, we have even more eyes and ears on the ground, identifying pain points and providing insights into the best ways to solve them. We look forward to furthering these unique, highly strategic relationships for the betterment of the industry."
About StructionSite
StructionSite is removing the grey area from construction by giving builders smarter tools and unbiased data about the status of their projects. With our intelligent project tracking platform, teams get in-depth insights into the status of work completed on a jobsite. Using our iOS or Android application, walk the jobsite recording a 360° video and our AI-powered algorithms map them to the project drawing. SmartTrack translates the photo data into regular updates of installed work, providing actionable insights for your team. Learn more at StructionSite.com.
About Latium Technologies
Founded in 2019, Latium Technologies has quickly become a go-to industrial IoT solutions provider. Trusted internationally by multibillion-dollar companies, such as Suncor, Enbridge, Trans Mountain Pipeline, TC Energy and PCL Construction, we help reduce cost, enhance logistics, bolster safety, and increase visibility using our scalable suite of Job Site Insights® products. Learn more at latiumtech.com.
About PCL Construction
PCL is a group of independent construction companies that carries out work across Canada, the United States, the Caribbean and Australia. These diverse operations in the civil infrastructure, heavy industrial and buildings markets are supported by a strategic presence in more than 30 major centers. Together, these companies have an annual construction volume of $9 billion CAD, making PCL the largest contracting organization in Canada and one of the largest in North America. Watch us build at PCL.com.