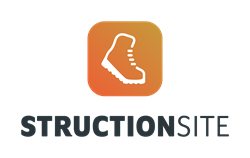 This strong market traction shows the breadth and depth of StructionSite's reach across the construction industry.
OAKLAND, Calif. (PRWEB) December 02, 2020
StructionSite, Inc., the leading provider of intelligent project tracking software for the construction industry, today announced that it has added or expanded a number of customer relationships. PCL Construction and McCownGordon recently signed enterprise agreements while BNBuilders, McCarthy Building Companies and Warfel Construction have expanded their existing relationships. This strong market traction shows the breadth and depth of StructionSite's reach across the construction industry. To capitalize on demand for StructionSite's platform, the company rounded out its leadership team, hiring long-time Procore Technologies sales leader, Mike Almeida, as its head of sales. It also added former NetBrain Technologies growth marketing leader Priyank Savla as head of marketing.
"The enthusiasm we're seeing from customers validates that we have developed technology needed by everyone from the largest global construction firms to small and medium-sized trade partners," said Matt Daly, CEO and co-founder of StructionSite. "We created StructionSite to solve the problems our team experienced firsthand in the field, and we continue to build innovative products that move the industry forward, regardless of conditions or market climate."
The StructionSite platform gives project teams and stakeholders online and mobile access to job sites anywhere, anytime through popular products including SmartTrack and Site Documentation with VideoWalk. StructionSite's intelligent project tracking and 360° site documentation capabilities are being used on jobs ranging from $100,000 to greater than $8 billion to mitigate risk, reduce unnecessary costs and keep projects on time and within budget.
"PCL is dedicated to building for the future, and StructionSite provides us with the best tools to do that with tremendous efficiency," said Mark Bryant, CIO at PCL Construction. "With projects around the world, we want to be able to streamline operations, review documentation, learn from best practices our teams are establishing and adjust estimates and projections based on what happens in real-world environments -- not to mention simply checking in visually on-site. StructionSite provides these capabilities. It is as if it was designed around our needs."
StructionSite adoption continues to accelerate with an 530% increase in VideoWalk™ usage year over year, generating substantial momentum, and Almeida and Savla were brought on board to help the company continue to scale. Almeida has a deep background working with general contractors. He spent the past several years working with enterprise and mid-market construction accounts at Procore Technologies. He also established himself as a prominent sales leader, working collaboratively with company owners, construction managers, general contractors, architects, engineers and specialty contractors to discover their needs and identify the right software solutions for those needs.
Savla has spent the past seven years leading digital experience and demand for a rapidly growing automation company, NetBrain Technologies. During his tenure, the company experienced 20x revenue growth and he built a community of 100,000+ NetBrain fans on social media.
"We've put the right team in place to make a tremendous impact on the future of construction," added Daly. "Mike knows this industry inside and out and has developed an incredible roster of contacts, while Priyank has had incredible success in growth marketing. We are thrilled to have them round out our leadership team as we accelerate our growth trajectory."
To learn more about why StructionSite is experiencing such strong customer momentum, please visit http://www.structionsite.com.
About StructionSite
StructionSite is fueling the intelligent construction revolution with the introduction of SmartTrack®, the first automated production tracking tool of its kind. With our intelligent project tracking software, teams get in-depth insights into the status of work completed on a jobsite. Using our iOS or Android application, walk the jobsite recording a 360° video and our AI-powered algorithms map them to the project drawing. SmartTrack translates the photo data into regular updates of installed work, providing actionable insights for your team. Learn more at StructionSite.com.