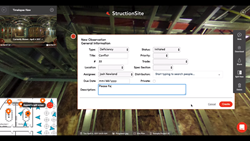 SAN FRANCISCO (PRWEB) July 25, 2018
StructionSite, Inc., a provider of 360 photos and video documentation for the construction industry, is announcing our newest features and enhancements to our software. Enterprise Dashboard with Analytics, Procore RFI's and Observations, and GPS Fence for Photo Crowd-Sourcing.
Enterprise Dashboard with Analytics
StructionSite's new Enterprise Dashboard with Analytics is available to enterprise partner companies for use on all projects. Gain full visibility and control over company rollout via the new enterprise admin dashboard. Monitor and export analytics on company adoption, user growth, and engagement on a month-to-month basis, and do things like drill down to individual users, projects, find your top photo takers, export analytics, and much more!
Procore RFI's and Observations
One of the increasing uses of StructionSite is for remote job site visits. If you are a Procore user, StructionSite can now streamline the creation of RFI's and Observations, right from within a 360 photo. Once created, quickly view, edit, and view changes to an RFI or Observation on StructionSite. The feature also creates a hyperlink back to the StructionSite viewpoint from Procore allowing for bi-directional movement between the two platforms. Think remote safety walks, impacted locations, logistics, issues, and many more!
"StructionSite has, once again, leveraged the power of the Procore API to unleash new power to our shared customers—now allowing users to connect visual data from the field directly to Procore workflows for continued tracking and resolution." - Eric Tucker, Business Development Manager, Procore Technologies
GPS Fence for Crowd-Sourced images
It's all too common for project team members to capture their project photos on their phones, ending up in some unorganized folder. StructionSite now allow's you to leverage a project GPS fence to bulk-import project photos onto a drawing, based on GPS and compass orientation! Intelligently pull photos captured within the project's boundaries - without personal photos coming along with it.
"StructionSite has enhanced the ability to upload and share critical photos with the entire team bound by a GPS fence. The photos that you are looking at will be associated with the correct project and point on a drawing giving your entire team ability to document, easier! " - Philip Lorenzo, CPO, StructionSite.
If you are not currently a StructionSite user, please visit our website, http://www.StructionSite.com, to sign up for a product introduction and see how we can take your job site documentation to the next level.
About StructionSite
Contractors love StructionSite because they can 'walk the job,' even from the office. Owners love StructionSite for the transparency and professional offline handover deliverable. Our newest platform enhancement, VideoWalk™, allows the user to walk around a job site, non-stop, while recording 360 videos. Once uploaded, StructionSite will automatically track and stitch a path onto a floor plan, allowing a project team to visit any location along that path as if you had stopped and taken a 360 photo. StructionSite is the #1 reality capture platform for Construction teams to improve processes, know when work is ready, and collaborate quicker.
http://www.structionsite.com