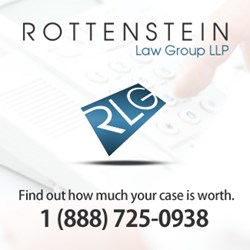 (PRWEB) November 26, 2013
There are now nearly 400 Stryker hip lawsuits pending in a federal case consolidation in Minnesota, according to court documents. The Rottenstein Law Group LLP, which maintains a Stryker lawsuits website, notes that the lawsuits involve plaintiffs' use of two of the company's metal-on-metal hip implant products, the ABG II and the Rejuvenate.
The new figure represents an increase of 50 lawsuits compared to last month, according to court documents (In re: Stryker Rejuvenate and ABG II Hip Implant Products Liability Litigation; MDL-2441, U.S. District Court for the District of Minnesota). Claimants have alleged they have suffered from serious adverse side effects, including pain, discomfort, the necessity for hip implant replacement and metal poisoning.
"Lawsuits are consolidated in federal courts into what is called a 'multidistrict litigation' in order for pretrial proceedings to be more efficient for the parties involved," said Rochelle Rottenstein, principal of the Rottenstein Law Group LLP.
In October, Stryker announced that it was estimating that the cost of litigation for the ABG II and Rejuvenate hip implants will range from $700 million to as much as $1.1 billion, according to an Oct. 23 Wall Street Journal report.* Stryker recalled the metal-on-metal hip implants in July 2012.
In other metal-on-metal hip implant news, Johnson & Johnson and its subsidiary DePuy Orthopaedics have agreed to resolve about 8,000 federal and state ASR hip lawsuits in a settlement reportedly worth at least $2.5 billion, and involving plaintiffs who underwent revision surgery, according to a Nov. 20 Reuters story.**
The Rottenstein Law Group LLP encourages those who believe they have suffered from the Stryker implants' alleged side effects to visit its FAQ page to learn more about Stryker hip lawsuits and side effects, and how to contact an attorney for a free consultation.
*online.wsj.com/article/BT-CO-20131023-714444.html
**reuters.com/article/2013/11/20/us-jj-hips-settlement-idUSBRE9AI1A820131120
About THE ROTTENSTEIN LAW GROUP LLP
The Rottenstein Law Group LLP is a New York-based firm that represents clients nationwide in mass tort actions. The firm was founded by Rochelle Rottenstein, who has more than two decades of experience as a lawyer, to represent clients hurt by defective medical devices and medications. (Attorney advertising. Prior results do not guarantee a similar outcome.)
Contact:
The Rottenstein Law Group LLP
Rochelle Rottenstein, Esq.
321 W. 44th Street
# 804
New York NY 10036
(212) 933-9500 (office phone)
(212) 933-9980 (facsimile)
rochelle (at) rotlaw (dot) com
plus.google.com/106070664376281033016
###