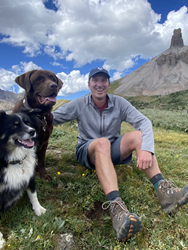 We have a very health-conscious community and Pet Wants makes it extremely easy to get fresh, small-batch pet food and products personally delivered to your door by your neighbors. That's an unmatched customer service experience and I can't wait to get to work... - Stuart Brown
BOULDER, Colo. (PRWEB) November 03, 2021
Stuart Brown is excited to announce that he's combining his passion for business with his love of pets to launch his own company – Pet Wants Boulder.
Pet Wants' specially-crafted, private-label pet food formulas are made in small batches with fresh, natural ingredients enhanced with vitamins and minerals for a complete and balanced diet in every bowl, all made in the USA. Pet Wants Boulder has multiple blends of dog and cat food formulas as well as single ingredient treats, all-natural chews, healing salve, calming balm, anti-itch spray, paw wax and more. As a mobile business, Brown offers free, personal delivery to Boulder, Louisville, Lafayette and the surrounding areas.
"My parents and I are all happy Pet Wants customers and, while looking on the website of a nearby location, I saw that there was an opportunity to launch my own Pet Wants here in Boulder. I love the quality and variety of their products – and my dog, Revy, loves their freeze-dried chicken hearts and freeze-dried salmon. I realized this was my chance to combine my professional experience and MBA, my desire to own a business, and my love of animals into something that could serve community," Brown said.
Pet Wants has a money-back guarantee on the freshness and quality of the food, the company only sources the best salmon, chicken, lamb, brown rice and other ingredients available. There's no sugar added, no fillers and no animal by-products and Pet Wants never uses corn, wheat, soy or dyes, which makes the food great for animals with allergies.
Brown grew up in in Telluride and attended the University of Georgia. After college, he lived in Atlanta for four years and worked in sales for a beverage distributor, but the mountains never stopped calling. He moved back to Colorado in 2018 and, after working in Telluride for a ski season, he moved to Boulder to pursue his MBA at the Leeds School of Business at the University of Colorado-Boulder. He graduated last May.
Pets, especially dogs, have always been a big part of Brown's life. Growing up, his parents had a black lab named Jackson, a golden retriever named Debry, two yellow labs named Genny and Sunny, and an Aussie/Broder Collie Mix named Zulu. Sunny and Zulu still live with his parents in Telluride and are satisfied Pet Wants consumers. His love of those dogs inspired him to bring home his own dog – a chocolate lab named Revy – in 2020.
"I have always loved dogs and I have known for a few years that I want to run my own business. When I found out about the possibility of owning my own Pet Wants, I realized it would be a great opportunity for me and Revy, but also for Boulder. We have a very health-conscious community and Pet Wants makes it extremely easy to get fresh, small-batch pet food and products personally delivered to your door by your neighbors. That's an unmatched customer service experience and I can't wait to get to work serving the pets and pet owners of Boulder," Brown said.
To learn more about Pet Wants Boulder, call 720-545-3496, email SBrown@PetWants.com or visit https://www.petwants.com/boulder/.