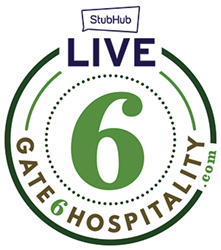 "We're incredibly excited to partner with the most innovative ticket marketplace in the entire industry with Stubhub," said Bullseye Event Group CEO Kyle Kinnett. "Stubhub Live Gate 6 Hospitality is going to be the championship experience of a lifetime."
Indianapolis, Indiana (PRWEB) March 30, 2017
With the recent closing of the Berckman's Road entrance, the new entrance on Alexander Road makes StubHub Live Gate 6 Hospitality in Augusta the most convenient hospitality spot for any golf fan. Boasting over 8,000 square feet of weather-protected indoor pavilion space, and an additional 4,000 square feet of covered outdoor patio seating, Gate 6 promises luxury at the Masters unlike any other.
 
Featuring a five-star buffet created by celebrity chef and America's greatest caterer, Aaron May, Gate 6 Hospitality will be the go-to spot for golf fans to grab a bite to eat and relax. Gate 6 Hospitality will also feature a premium open bar, large screen HDTV's with closed circuit Masters coverage and soft leather furniture for optimal luxury.
 
Daily hospitality is available from 7:00 a.m. to 9:00 p.m. on Wednesday, April 5 through Sunday, April 9, including Bullseye's official VIP Saturday Night Live party featuring a Q&A session with Darren Clarke, an incredible all-you-can-eat five star buffet from May, premium open bar and more.
Tickets to StubHub Live Gate 6 Hospitality at the 2017 Masters can be purchased directly from BullseyeEventGroup.com or StubHub.com.
 
Call Bullseye Event Group today at 317-800-3280 for pricing and insider information regarding the Gate 6 Hospitality at the Masters.
 
About Bullseye Event Group
The official events and travel partner of the Indianapolis Colts, Bullseye Event Group offers fans VIP experiences as a secure, official source for travel, hotel, pre-game parties and game tickets. Bullseye is a direct and dependable source for tickets to the Colts VIP Tailgate, Super Bowl travel packages, the Players Tailgate at Super Bowl LII, Gate 6 Hospitality at the Masters, Derby Launch Party and more. To learn more about Bullseye Event Group, visit BullseyeEventGroup.com.