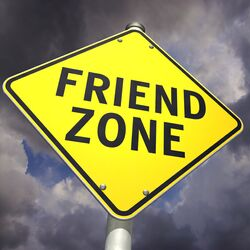 "Imagine dancing between safety and unpredictability. Imagine being safe in an unpredictable environment!"
WALNUT, Calif. (PRWEB) September 30, 2019
"The 36 Questions that Lead to Love" was first published by the New York Times and has been resurfacing for years, furthering the notion that modern-day adults want to fall in love–as fast as possible [1,2]. This research-based questionnaire presupposed that two open-minded people could fall deeply in love after going through the quiz. Is it possible to fall in love with just 36 questions? George Araman, relationship entrepreneur and author of The Grey Dance of Love, has gone deep into the subject and discovered that there is, indeed, such a formula.
Araman contends that, much like the ions in an atom, relationships survive on the interaction of opposing energies which attract. Leaving the friend zone is therefore less about approaching a love interest in a certain rehearsed way than changing one's "charge," or chemistry, in order to complement theirs. This is a revolutionary way to approach relationships, as most articles on this subject advise readers to "say this" or "don't do that." Instead, Araman takes different ways of behaving in relationships and breaks them down into several different behavior profiles or chemistries—similar to the Myer-Briggs-type indicator.
One can be, for example, a Mr. or Ms. "Friend Amore®," "Nice Mirror®" or "Bad Sparks®," and these categories are all about how people organize or manage their feminine and masculine energies and the types of people which a particular energy profile tends to attract. Having been #friendzoned himself, Araman decided to work on developing his masculine energy, a type of energy that would react and pair with the feminine energy in his desired love interest. After practicing his techniques with female friends, responses indicated that there was a fundamental change in his "presence," or his energy profile, which women were able to detect—resulting in them feeling much more "comfortable," and able to "seamlessly open up"—the prerequisite for chemistry and intimacy, as indicated in the work of "36 Questions" developer Dr. Arthur Aron [3].
Araman also advocates the development of different dimensions of chemistry which combine to create this sense of maximally attractive "presence": physical + intellectual + emotional. This is supported by the work of relationship expert Dr. John Gottman, who has found, in over 30 years of relationship research, that marital issues between couples predictably arise and can be resolved according to issues of physical response, intellectual compatibility and emotional understanding [4].
Finally, Araman discusses the importance of knowing one's true self and how many people might simply be attracted to the wrong partner—and gives a formula for how to choose those who would be more compatible. He includes "magic" in his book—his perspective on relationships is nothing if not optimistic. According to Araman, "Life is not black-and-white; life is a dance between black-and-white; life is grey...we all need a certain 'safety' and a certain 'unpredictability.' Imagine dancing between safety and unpredictability. Imagine being 'safe' in an 'unpredictable' environment! [5]"
Hence, The Grey Dance of Love. For a relationship to be successful on all levels, Araman advises that both partners keep moving between this sense of safety and unpredictability, the sense of friendship (the "Friend Zone"!), and the uncharted waters of newness and attraction—perpetuating a satisfying relationship with the right partner.
The Grey Dance of Love is an in-depth experiment—a mixture of intensive research, formulas and stories to give love-seeking readers a step-by-step guide for relationships, including:

An Enchanting Love Story
1 Magical Formula
8 Characters (You are 1 of Them)
8 Tailored Love Potions to Solve All Relationship Problems
A step-by-step guide to take you from where you are to where you want to be
Sparks are coming out at the October 8th book release! Pick up your copy to discover:
1) How to create, ignite and re-ignite sparks
2) Why we love nice boys/girls and how to develop and maintain deep love intimacy
3) Why we are #friendzoned and how to go from friend to love, and more…
Download a sample of The Grey Dance of Love book today.
About George Araman's The Grey Dance of Love:
The Grey Dance of Love, by Incessant Researcher and Incurable Romantic, George Araman, is based on his study of 200+ books and 1,200+ articles, an in-depth experiment and the author's personal experience. Araman has included an enchanting love story, a magical formula, eight characters (one of whom is the reader), eight tailored love potions to solve all relationship problems and a step-by-step guide to take the reader from where he/she is to where he/she wants to be. Araman was inspired to write this book because he was friend-zoned and wanted to find a solution. It's the only relationship book that gives all of the industry solutions in one place. For more information, visit http://www.greydanceoflove.com.
Multi-media Links:
The Grey Dance of Love: Step-by-Step Guide to Finding Love that Lasts – website
The Grey Dance of Love: Step-by-Step Guide to Finding Love that Lasts – Amazon
The Grey Dance of Love: Step-by-Step Guide to Finding Love that Lasts – Goodreads
Social Media Links:
The Grey Dance of Love – Facebook
The Grey Dance of Love - YouTube
George Araman, @IamGeorgeAraman – Twitter
Greydanceoflove - Instagram
George Araman – LinkedIn
Hashtags:
#friendzoned
#TheGreyDanceOfLove
#relationshipproblems
#relationship
#relationships
#marriage
#couples
#love
#romance
Quotable Quotes:
"A rewarding love-potion for the broken-hearted" Nicholas Boothman, Author of 'How to make People Like You in 90 Seconds or Less.'
"This is a helpful, uplifting book, full of good ideas for you to start and build loving relationships with other people in your life." Brian Tracy, Author of 'Stay in Love Forever.'
Sources:
1. Jones, Daniel. "The 36 Questions That Lead To Love." The New York Times, 9 January 2015.
2. Schulten, Katherine. "Valentine's Day Across the Curriculum: Exploring the History, Literature, Economics, Science, Math and Psychology of Love and Romance." The New York Times, The New York Times, 13 Feb. 2019, nytimes.com/2019/02/13/learning/lesson-plans/valentines-day-across-the-curriculum-exploring-the-history-literature-economics-science-and-psychology-of-love-and-romance.html.
3. Aron, Arthur, et al. "The experimental generation of interpersonal closeness: A procedure and some preliminary findings." Personality and Social Psychology Bulletin, 23.4 (1997): 363-377.
4. The Gottman Institute. "Marriage and Couples." 2018. gottman.com/about/research/couples/.
5. Araman, George. The Grey Dance of Love, greydanceoflove.com.