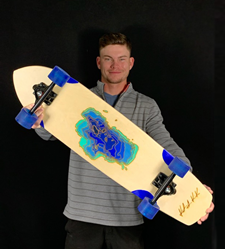 "I liked the hands-on work […] I learned how to use different art features I've never used before. I'm always building things, and now I can add an artistic touch to it." --Keaton Kissak
INCLINE VILLAGE, Nev. (PRWEB) June 10, 2021
Sierra Nevada University is not a typical college campus. Located two blocks from Lake Tahoe's northern shore, nestled in the Sierra Mountains, SNU has been connecting students to their pristine surroundings since 1969. Complementing its unparalleled environment, SNU takes a unique approach to learning, offering small class sizes and an alternative academic calendar. The school year is bookended by two "short block" classes, in which students take an intensive course rooted in experiential learning. In these two-to-three-week sessions, students dive into projects, attend conferences, travel to study abroad, or conduct fieldwork.
This spring, the Fine Arts Department offered "Form and Function in Skate Design," co-taught by 2D Professor Mary Kenny and 3D Professor Rick Parsons. Students learned a variety of design principles and fabrication skills through the process of building their own longboards from start to finish. Class began with pressing together layers of thin wood sheets to form the skate deck and culminated in students riding their creations. Despite being listed in Fine Arts, the class attracted students across campus. Graduating Business & Marketing senior, Keaton Kissack, enjoyed the class. Kissak shared, "I liked the hands-on work […] I learned how to use different art features I've never used before. I'm always building things, and now I can add an artistic touch to it."
Sustainability Program Chair, Brennan Legasse, offered "Intersectional Natural History of the Redwoods," an expeditionary immersion course taught in the Northern Californian Redwoods. Each day, the class moved physically and academically through themes of river, forest, and ocean. Instruction covered the cultural and historical significance of the area as the traditional lands and territories of First Nations people, including the Tolowa, Yurok, and Wiyot. Sophomore Brayden Stephenson felt energized by the trip. When asked what stood out, he shared, "Seeing how activated that community is across the board, be it social justice or environmental justice. That and just full immersion in nature. We were able to surf a ton and hang out in the trees."
In addition to the subjects mentioned here, the University offers other in-depth classes during short blocks. Favorites include travel and field courses like: Natural History of the Rogue River: Expedition Whitewater Rafting, Ceramics, Samari, and Sushi in Japan, and Adventure and Travel Writing in Portugal. For those who prefer to stay closer to home, the short block classes give students an opportunity to be immersed in projects with classes like Podcasting Journalism and Web Design.
Like what you've read so far? Join SNU students on their next adventure by applying today!
Sierra Nevada University offers rolling admissions, meaning the school is still accepting applications for fall 2021 and there is no deadline to apply. The SNU Admissions team has streamlined the application process. Just submit your transcripts from any previously attended education institution, and an ACT or SAT score report. No test scores? No problem! SNU will allow a letter of recommendation in lieu of test scores for the upcoming semester. Take the first step in your academic adventure today by starting your FREE application on the website!