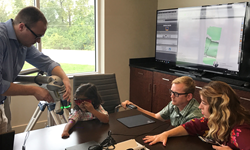 "It's incredibly important for us to work with students and let them see how advanced technology can supercharge their projects" – Jim Topich, VP Engineering
CINCINNATI (PRWEB) October 17, 2018
Hansika has a rare genetic condition that caused her to be born without a right hand. Four seniors from Lakota East High School near Cincinnati decided to use advanced technology to give her a new one.
Working with the Imaging + Analysis team at Kinetic Vision, the students scanned Hansika's hand and both arms in order to capture all the geometries they need to build a matching prosthetic hand. The students will spend their senior year on the project culminating in a working prototype for Hansika.
"We wanted to do a project that makes a direct difference in someone's life" said Cali Hoffman, one of the Lakota seniors who is working on the project. Cali and her teammates, Logan Spilie, Ben Roth, and Sam Billisits, co-presented the details of their project to key Kinetic Vision engineers and Butler Tech faculty prior to the scanning.
Jim Topich, VP of Engineering at Kinetic Vision, said "it's exciting for us to engage with students and make them aware of the latest R&D tools," adding "Kinetic Vision has a long history of working with high school and college students, and we're always amazed at how quickly they master the new technologies."
Hansika's project is one of 17 different ones at Lakota High School, which is also guided by faculty at Butler Technology and Career Development Schools. Every 'Capstone' project is designed to accomplish a single mission of helping the community in some way. The program, led by Butler Tech instructor Ken Kinch, is partnering with several companies to help give the students real-world experience. Kinetic Vision has partnered with Lakota High School and Butler Tech since 2014.
"At the end of the day, the real reward in harnessing all this technology is when we all see Hansika using a functional new hand," said Topich.
WCPO Channel 9 in Cincinnati also covered the story. See the segment by Lisa Smith on Hansika's hand at this link.