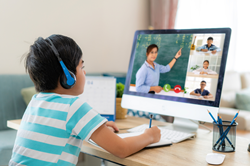 BOULDER, Colo. (PRWEB) September 17, 2020
A brief published earlier this summer by ExcelinEd provides recommendations to education policy leaders for the delivery of special education services during the COVID-19 school closures.
Professor Elizabeth Kozleski of the Stanford University reviewed Special Education and Distance Learning: Supporting Students Through the Pandemic. She concludes that it offers only minimal support for policymakers in funding the research and development work that lies ahead as remove education continues for students with disabilities.
The brief notes Secretary of Education Betsy DeVos' statement that the core features of implementation of the Individuals with Disabilities Act must remain in place and that no waivers for the delivery of special education services are allowable. It also notes that families and advocates are deeply worried about learning progress and loss of learning because of the national pandemic. In response, the brief provides four sets of what it labels "best practices" for school and district leadership.
Professor Kozleski explains that these recommendations come up short, in part because they assume that current knowledge among school professionals is sufficient to make the desired special education and technological leaps. In fact, the necessary knowledge and capacity are barely emerging. Further, the recommendations do little to address the unequal distribution of resources in schools, which include access to well-prepared teachers and related services personnel qualified to teach students with disabilities, particularly using distance learning approaches.
Given these concerns, coupled with the lack of research anchoring its recommendations, the brief offers little to policymakers or practitioners currently struggling to make distance learning work during the pandemic.
Find the review, by Elizabeth B. Kozleski, at:
https://nepc.colorado.edu/thinktank/special-education-pandemic
Find Special Education and Distance Learning: Supporting Students Through the Pandemic, written by Patricia Levesque and published by ExcelinEd, at:
https://www.excelined.org/wp-content/uploads/2020/06/ExcelinEd.COVID19.SpecialEducationDistanceLearning.June2020.pdf
NEPC Reviews (http://thinktankreview.org) provide the public, policymakers, and the press with timely, academically sound reviews of selected publications. NEPC Reviews are made possible in part by support provided by the Great Lakes Center for Education Research and Practice: http://www.greatlakescenter.org
The National Education Policy Center (NEPC), a university research center housed at the University of Colorado Boulder School of Education, produces and disseminates high-quality, peer-reviewed research to inform education policy discussions. Visit us at: https://nepc.colorado.edu