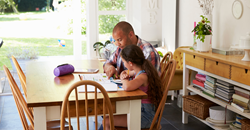 OREM, Utah (PRWEB) September 21, 2020
2020 has been a rough year. To strengthen teachers, students, and parents, Studies Weekly is offering 10 units of its well-being curriculum free.
These 10 units are part of a new stand-alone K-5 Tier 1 social-emotional learning curriculum that helps educators teach, examine, and support student well-being through discussion, instruction, and reflection. Topics include self-regulation, empathy, resilience, collaboration, the growth mindset, decision-making, stress management, and mindfulness.
Each unit has integrated discussion prompts that help students learn to navigate life's challenges. These discussions help students thrive physically, socially, emotionally, mentally, and academically.
The 10 free units are only available through Studies Weekly Online, a robust and interactive learning platform.
To order the free curriculum, visit s-w.co/store-wellbeing.
About Studies Weekly:
Studies Weekly, a curriculum company based in Orem, Utah, has been educating elementary students since 1984. The company offers award-winning K-6 social studies and science curriculum, adopted by state boards of education across the nation. Studies Weekly's curriculum is uniquely presented in a printed periodical format that pairs with an interactive online learning platform.