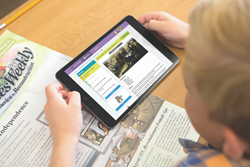 "When it comes to curriculum, you want to know you're getting the best."
OREM, Utah (PRWEB) April 01, 2021
Studies Weekly is offering free access to their entire online learning program — Studies Weekly Online — from April 1 to June 15, 2021.
All students and teachers can use Studies Weekly Online and explore its wide range of engaging multimedia resources.
Studies Weekly Online is a K-6 standards-based curriculum for Social Studies, Science, and Well-Being. This online platform includes all student editions, teacher editions, lesson plans, English Language Arts integrations, and customizable assessments.
This marks the second time Studies Weekly has opened its online program free of charge. Last April, the company opened up Studies Weekly Online for the remainder of the 2019/2020 school year.
"We took the initiative last year to take all of our online curriculum and make it available for free in order to support teachers and the kids during such a difficult and rapid transition to remote learning," said Studies Weekly CEO John McCurdy.
Many of the teachers and school districts who took advantage of this offer became current customers.
"Most of us would agree there are some things we just want to try before we buy. And when it comes to curriculum, you want to know you're getting the best and in the right format," McCurdy said. "We invite you to take the opportunity to use our online program while you still have students engaged in this school year. Learn from it in real-time and witness the impact of it."
To check out Studies Weekly publications visit s-w.co/samples.
Teachers can start their free access to Studies Weekly Online by visiting studiesweekly.com/online.
About Studies Weekly
Studies Weekly, a curriculum company based in Utah, has been educating elementary students since 1984. Studies Weekly's curriculum is uniquely presented in a printed periodical format that pairs with an interactive online learning platform. The company offers award-winning K-6 social studies, science, and well-being curriculum, adopted by state boards of education across the nation.