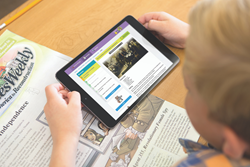 We want the students to be successful and show they understand the text.
OREM, Utah (PRWEB) April 26, 2021
Studies Weekly recently updated 9,000 related media questions on its digital learning platform, Studies Weekly Online. Another 27,000 questions will be available by July 31.
John Nabors, Studies Weekly product manager, and his team reviewed the related media questions for accuracy and aligned them with current education standards, frameworks, and cultural nuances. The company undertook this project to ensure the related media questions reflected high standards, and to give customers the best content possible.
The team also made the text-based questions accessible to all students. Nabors and his team asked colleagues from various backgrounds to review the related media questions before publishing them on Studies Weekly Online.
"To write these kinds of relatable questions takes conscious effort to leverage third-party consultants who can bring outside perspectives," Nabors said. "It's important for every student to be able to see themselves in the text."
His team also updated Studies Weekly Online so the media content and questions support the material covered in the digital article.
"We want the students to be successful and show they understand the text," Nabors said.
Teachers and students can access Studies Weekly Online by visiting studiesweekly.com/online.
To check out Studies Weekly publications visit s-w.co/samples.
About Studies Weekly
Studies Weekly, a curriculum company based in Utah, has been educating elementary students since 1984. Studies Weekly's curriculum is uniquely presented in a printed periodical format that pairs with an interactive online learning platform. The company offers award-winning K-6 social studies, science, and well-being curriculum, adopted by state boards of education across the nation.