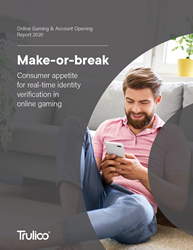 "Online gamers are overwhelmingly supportive of identity verification checks to minimize risk and ensure security; they simply want the process to be as efficient and intuitive as possible." - Zac Cohen, COO at Trulioo.com
SAN FRANCISCO (PRWEB) February 05, 2020
Only a third (33%) of online gamers in the UK and U.S. are fully satisfied with their experiences creating online gaming accounts. New research published today by Trulioo, the leading global identity verification provider, finds that customer satisfaction around the online account opening process is lower within online gaming than any other sector, including retail, financial services, and online marketplaces.
Zac Cohen, COO of Trulioo, said: "This research highlights the extent to which the account creation experience really is make or break. It's the difference between establishing a trusted and meaningful relationship with a new customer who might use the site for many years, or losing that potential revenue forever. Gaming operators simply cannot afford to deliver a poor onboarding experience in such a competitive market. They need to ensure that their account opening process provides consumers with a fast and seamless experience but also protects them against risk."
The consequences of poor online account opening experiences are profound. More than three quarters (77%) of online gamers claim that the account opening process can 'make or break' their future relationship with a brand and more than half (53%) have abandoned the process when opening up a new account due to a poor experience.
The research, released in a new report, Online Gaming & Account Opening 2020 reveals the extent to which online gamers recognize the need for robust security and identity verification during the account opening process. 87% feel that security is a very important part of an optimal account creation experience, far ahead of flexibility (61%) and speed and seamlessness (59%).
There is a wide range of reasons why consumers abandon the account opening process. 43% would abandon if the gaming site was unable to verify his or her identity after multiple attempts and 40% would walk away if there were a lack of transparency about why certain personal information is required.
The research uncovers widespread consumer appetite for real-time identity verification as part of a fast and secure account creation process. More than three quarters (77%) of online gamers say that they would be willing to share more personal data with gaming operators that use real-time identity verification to enhance the account opening experience.
Cohen concluded: "Online gamers are overwhelmingly supportive of identity verification checks to minimize risk and ensure security; they simply want the process to be as efficient and intuitive as possible, in keeping with the real-time gaming experience they enjoy once they are signed up to the site. As gaming operators develop their strategies to take advantage of the exciting new opportunities emerging over the coming years due to the explosive growth of online gaming, they should not overlook the fundamental importance of being able to onboard customers in the right way. Those that can combine speed and security to deliver an optimal experience will be well placed to thrive in the new decade."
To download the report, visit Online Gaming & Account Opening Report 2020.
About Trulioo
Trulioo is a global identity and business verification company that provides secure access to reliable, independent and trusted data sources worldwide to instantly verify consumers and business entities online. Trulioo's bank-grade online verification platform, GlobalGateway, helps organisations comply with Anti-Money Laundering (AML) and Customer Due Diligence (CDD) requirements by automating Know Your Customer (KYC) and Know Your Business (KYB) workflows. Trulioo supports global clients to instantly verify 5 billion people and 330 million business entities in over 100 countries — all through a single API integration. Named as a CNBC Disruptor 50 Company, the Trulioo mission is to solve global problems associated with verifying identities by powering fraud prevention and compliance systems for customers worldwide in an effort to increase trust and safety online. For more information visit trulioo.com.