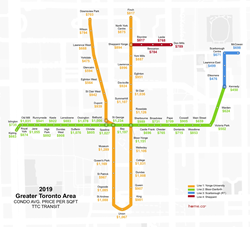 TORONTO (PRWEB) June 11, 2019
Home.ca releases data based on Condos sold prices per square foot. TTC access plays an increasingly important role in the day to day life of Torontonians. In this study we analyzed condo sold price per square foot in areas along the subway to determine what are the cheapest and most expensive subway stops to live nearby.
Looking at the average price per square foot is the best way to do a comparison and ultimately determine what you're getting for your money.
The best deals on condos can be found on the east end. Kennedy station for example has the lowest average price per square foot. Those looking for a more central location can also find good deals in the North York area. Units around the Sheppard-Yonge station offer some of the better deals, as well as those closer to the Kipling station in Etobicoke.
The study shows Toronto's top 5 least expensive areas by station are: 1. Kennedy - $450 per sqft, 2. Yorkdale - $475 per sqft, 3. Ellesmere - $476 per sqft, 4. Lawrence East - $499 per sqft, 5. Victoria Park - $502 per sqft.
Toronto's top 5 most expensive being: 1. Bloor-Yonge - $1,151 per sqft, 2. Queen's Park - $1,169 per sqft, 3. Bay - $1,197 per sqft, 4. St George - $1,234 per sqft, 5. Museum - $1,289 per sqft.
About Home.ca
Home.ca is a leading real estate search engine in Canada, attracting 84 million page views from over 800,000 unique visitors per year. Listings are refreshed every hour to provide the most up-to-date information on real estate properties for sale and rent. Home.ca was founded on the principles of transparency and uses real estate data to provide analysis previously only available to licensed Realtors®.
For further information: MEDIA CONTACT: Edward Cirstea, Marketing Manager, edward(at)home.ca, 647.444.3430, https://home.ca