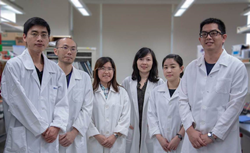 DURHAM, N.C. (PRWEB) January 15, 2020
When it comes to regenerating damaged brain cells, mesenchymal stem cells (MSCs) induced using an EP4 antagonist are superior to MSCs induced without the antagonist, according to a new study released today in the STEM CELLS Translational Medicine journal. The study, conducted on mice by researchers at the Institute of Cellular and System Medicine, National Health Research Institutes, Taiwan, and the University of California, Los Angeles, provides information that could be used to develop new treatments for brain damage, including those caused by stroke and Parkinson's disease.
Several clinical studies have shown the promise of MSCs in repairing neurological damage, but MSCs also present challenges such as complications of cell implantation and the possibility of ectopic tissue formation. "However," said the study's lead investigator, Hua-Jung Li, Ph.D., "MSC-derived extracellular vesicles (EVs)/exosomes – which shuttle proteins and genetic information between cells – do not cause many of these difficulties. Consequently, the use of MSC-derived EVs/exosomes for therapy may attenuate many of the safety concerns related to the use of living stem cells."
Previous studies by Dr. Li's team focused on EP4, a protein-coupled receptor found to promote tumor proliferation and invasion. They demonstrated that inducing the MSC EV/exosomes in culture treated with an EP4 antagonist resulted in MSCs superior to those from basal (untreated) culture for rescuing cognition and learning deficiencies in the hippocampus. This is the area of the brain where cognition, spatial learning and memory occur.
"Consequently, we suspected increases in specific EP4 antagonist-induced MSC EVs/exosome cargo components might be behind these regenerative effects," Dr. Li said.
In the new study – a follow-up to their previous work – the researchers further demonstrate the effects of EV/exosomes released from EP4 antagonist treated MSCs. "We show that they contain increased levels of CNP – a myelin-associated enzyme necessary for rescuing cognition and learning deficiencies – and they suppress astrogliosis and inflammation. The systemic administration of EP4 antagonist-elicited MSC EVs/exosomes also promote the growth of new neurons and neurites in damaged hippocampi," Dr. Li said.
In contrast, CNP-depleted EP4 antagonist-induced MSC EVs/exosomes failed to repair the damage.
"Taken together, these data indicate that EP4 antagonist-elicited MSC EVs may be useful for therapies of central nervous system disease and damage," Dr. Li concluded.
"The data from this line of research show enhanced regenerative potential for therapies that could someday treat brain damage and neural degeneration diseases," said Anthony Atala, M.D., Editor-in-Chief of STEM CELLS Translational Medicine and director of the Wake Forest Institute for Regenerative Medicine. "We look forward to seeing the successful advancement of this work."
The full article, "Exosomal 2',3'-CNP from mesenchymal stem cells promotes hippocampus CA1 neurogenesis/neuritogenesis and contributes to rescue of cognition/learning deficiencies of damaged brain," can be accessed at https://stemcellsjournals.onlinelibrary.wiley.com/doi/abs/10.1002/sctm.19-0174.
About STEM CELLS Translational Medicine: STEM CELLS Translational Medicine (SCTM), co-published by AlphaMed Press and Wiley, is a monthly peer-reviewed publication dedicated to significantly advancing the clinical utilization of stem cell molecular and cellular biology. By bridging stem cell research and clinical trials, SCTM will help move applications of these critical investigations closer to accepted best practices. SCTM is the official journal partner of Regenerative Medicine Foundation.
About AlphaMed Press: Established in 1983, AlphaMed Press with offices in Durham, NC, San Francisco, CA, and Belfast, Northern Ireland, publishes two other internationally renowned peer-reviewed journals: STEM CELLS® (http://www.StemCells.com), celebrating its 38th year, is the world's first journal devoted to this fast paced field of research. The Oncologist® (http://www.TheOncologist.com), also a monthly peer-reviewed publication, entering its 25th year, is devoted to community and hospital-based oncologists and physicians entrusted with cancer patient care. All three journals are premier periodicals with globally recognized editorial boards dedicated to advancing knowledge and education in their focused disciplines.
About Wiley: Wiley, a global company, helps people and organizations develop the skills and knowledge they need to succeed. Our online scientific, technical, medical and scholarly journals, combined with our digital learning, assessment and certification solutions, help universities, learned societies, businesses, governments and individuals increase the academic and professional impact of their work. For more than 200 years, we have delivered consistent performance to our stakeholders. The company's website can be accessed at http://www.wiley.com.
About Regenerative Medicine Foundation (RMF): The non-profit Regenerative Medicine Foundation fosters strategic collaborations to accelerate the development of regenerative medicine to improve health and deliver cures. RMF pursues its mission by producing its flagship World Stem Cell Summit, honouring leaders through the Stem Cell and Regenerative Medicine Action Awards, and promoting educational initiatives.