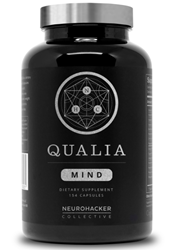 NEW YORK (PRWEB) November 28, 2018
A pilot study using Neurohacker Collective's Qualia™ Mind supplement with Cognizin® Citicoline is showing promising results in cognitive brain functions.
Twenty-three study participants were tested three times using the CBS Health platform created by Cambridge Brain Sciences, a leading provider of cognitive testing tools. Subjects were evaluated before starting Qualia™ Mind, after their first treatment, and again five days after using the daily dietary supplement, which contains 150mg of Cognizin® per serving. *
After five days of taking Qualia Mind, participants saw an average 85.4% increase in scores to measure ability to concentrate/avoid distraction, 37.2% increase in scores for planning skills, 31.1% increase in scores for visual representation, 16.9% increase in scores for verbal reasoning, 13.3% increase in scores for verbal short-term memory, and 10.2% increase in scores for episodic memory. *
While these are just preliminary findings on a small number of people, they are exciting initial results to see. For additional details on the study visit neurohacker.com/qualia-mind-pilot-study.
Citicoline is a critical part of several brain functions. Clinical studies show Cognizin® provides vital nutrients that help the brain maintain healthy neurons and protect them from free radicals." *
Additional information about the Neurohacker Collective study is available at neurohacker.com/qualia-mind-pilot-study.
For more information about Qualia™ Mind, visit https://neurohacker.com/qualia-mind.
About Neurohacker Collective
Founded in 2015, Neurohacker Collective's mission is to create best in class well-being products by employing a unique methodology to research and development based on complex systems science. Rather than overriding regulatory systems with chemicals designed to move a biomarker in a particular direction, this approach focuses on supporting the body's ability to self-regulate. Visit https://neurohacker.com to learn more.
About Cognizin
Cognizin® Citicoline, manufactured by Kyowa Hakko Bio Co., Ltd., is a clinically studied and patented form of Citicoline, a natural substance made endogenously in the body.* Citicoline is a potent brain-health nutrient. A proprietary form of citicoline, Cognizin® has been clinically studied to support mental energy, focus, attention, and recall. Cognizin is manufactured through a patented fermentation process to yield high quality and high purity. Cognizin is also highly stable, GRAS, ultra-pure and allergen-free. For more information on Cognizin, visit Cognizin.com.
About Kyowa Hakko USA
Kyowa Hakko USA is the North & South American office for Kyowa Hakko Bio Co. Ltd., an international health ingredients manufacturer and world leader in the development, manufacturing, and marketing of pharmaceuticals, nutraceuticals and food products. Kyowa is the maker of branded ingredients including Cognizin® Citicoline, Pantesin® Pantethine, Setria® Glutathione, as well as Sustamine® L-Alanyl-L-Glutamine. For more information visit Kyowa-USA.com.
*These statements have not been evaluated by the Food and Drug Administration. This product is not intended to diagnose, treat, cure, or prevent any disease.
# # #