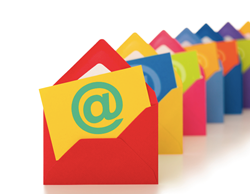 Though smartphones, tablets, and extended Internet usage have all added an abundance of new players into the marketing mix, most companies still view email marketing as a better return on investment.
Austin, TX (PRWEB) May 29, 2014
When doing marketing for a small business, one should always be developing platforms that extend one's reach and provide opportunity for added revenue. Even in today's fragmented digital environment, creating an email database is still a reliable, go-to marketing strategy. And although smartphones, tablets, and extended Internet usage have all added an abundance of new players into the marketing mix, most companies still view email marketing as a better return on investment than PPC, content marketing, social media, offline direct marketing, affiliate marketing, online display advertising and mobile marketing.
Here Study Breaks College Media, a leading college media entertainment company, presents business owners with 10 must-know tips for building an email database and improving their digital ROI.
1. Utilize the Website
One's website will most likely be the main driving force in growing their email database, and it's important to ensure that every screen of the website features a prominent email list subscriber sign-up box. After a customer completes an online purchase, one should be sure to send a follow-up email directly to the customer's inbox with an opt-in asking if the customer would like to subscribe to the email list to be eligible for special discounts, events or extra information.
2. Communicate Directly and Effectively
One can often achieve surprising results by simply being upfront and asking. It's important to make sure the customer does not feel pressured and to tell the client that while an opt-in is, by definition, optional, it will help them stay informed about important updates and promotions. By presenting a customer with an option, it encourages them to ask questions about the emails they may receive. Having this conversation with customers won't just help grow the email list, but it also serves as a way to further inform customers about the business.
3. Run Promotions
Promotions are one of the most effective forms of attraction in today's social-sharing environment. A properly run promotion should entice viewers to join one's email list by offering them a prize. It's as simple as running promotions on one's social media profiles and website, announcing that, by subscribing to the email list, the customer will be offered discounts, insider information, entry into future contests and other perks that are only available to those who are subscribers.
4. Create Incentives
Incentive-based promotions are a very specific form of contest. In an incentive-based promotion, the marketer is asking viewers to do the work and grow their database for them, in exchange for an incentive. For this, one would run contests for customers, encouraging them to forward the email newsletter opt-in to their friends (while ensuring that the customer is aware of the value placed in becoming an email subscriber) in exchange for a worthwhile prize that will make them feel that their sharing is justified.
5. Sign Subscribers Up Physically
One should be sure to bring an email sign-up form to every event where one's business is featured and not be afraid to initiate a conversation and vocally invite and encourage people to sign up. Again, one will not only gather some email addresses by asking, but in many cases, this icebreaker will also open the door for a conversation about why one's emails are more than "just spam."
6. Install Opt-In Lightboxes
An attractive lightbox on one's site inviting visitors to sign up to be an email subscriber will capture the attention of viewers and entice them to interact with it.
7. Use Social Media
While most people would consider social media pages a "new wave" of email database communication, the truth is that for marketers, social media outlets and acquiring email subscriptions go hand-in-hand. One can even design their social media pages to capture email addresses after a new user "likes" one's social media page.
To encourage subscriptions, one should include an area on their social media profiles where viewers can subscribe to the mailing list. One should also make sure to use their social media to advertise promotions and incentives related to signing up for the email list. It's essential to reach out to established and committed fans and customers; if they are already following or participating on the social media sites, they will most likely be interested in joining the mailing list.
8. Blog Strategically
Creating a company blog is a tactic used by SEO experts and enthusiasts, and by creating content and optimizing that content, one increases the chances that new customers may discover one's company by accident and sign up for the email list to receive more content-relevant information. After all, the key to a successful blog is promoting content useful to one's customer base, and if one is able to achieve that feat, their customers will view their brand as a helpful source of information, rather than an empty marketing wasteland.
9. Include Info On Business Cards and Flyers
Another effective strategy is to mention the benefits of joining the email list on the back of the company business cards and to include the company's website so that the customer can easily access it. One should also consider using a QR code or utilizing augmented reality to allow people to use their phones and be immediately directed to the sign-up for one's email subscription list.
10. Partner Up With Other Businesses
One final way to get more subscribers is to make a contact with a related business that is not a competitor and set up a system where the two parties can work together by mentioning each other in their respective newsletters. Then it's as simple as highlighting the other company in the newsletter and inviting readers to join the other company's email list.
Study Breaks College Media provides a one-stop solution for small businesses, providing them with big marketing strategies and delivering college students.
Study Breaks magazine is an award-winning line of monthly entertainment magazines for college students with a mission can best be explained through its slogan: We are college life. Published by Shweiki Media Printing Company, it is distributed in five Texas cities (Austin, Houston, San Antonio, San Marcos and Lubbock). (Studybreaks.com)