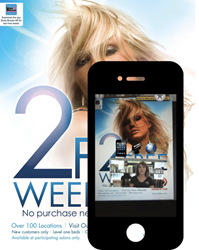 Purchasing print advertising is separating oneself from the competition, and whether one is looking to raise brand awareness among new customers or stay relevant in the eyes of current customers, advertising in the right publication can help.
Austin, TX (PRWEB) November 14, 2013
Gyms based in college markets have it rough. Aside from the usual deterrent to gym memberships—a lack of motivation to exercise—gym owners are facing more outside competition now than ever before.
Student recreation centers give students a free and conveniently located place to exercise, with fitness classes and equipment technology advancing yearly. Meanwhile, alternative workout groups such as Crossfit and martial arts gyms are gaining popularity as well, thriving in the pocket of the tight-knit collegiate atmosphere.
However, one perk of the college demographic? They often travel in packs, and capturing the interest/business of one student can snowball into an entire new group of customers. Here Study Breaks, a leading college media entertainment company, presents must-know tips for gym owners attempting to capture the college market…
Create a Coupon
Students will go anywhere to cash in a coupon—especially when the product being given is one that is simultaneously an essential for health and a barrier against the dreaded "freshman 15." The best way to compete with good ol' fashioned free exercise (like students find at the rec on campus) is almost-free, intense exercise that challenges students so much that they're encouraged to go home and tweet about how tired they are.
Basically, the coupon is a way to bring the students in, while the awesome workout, equipment or atmosphere being offered by the gym is what will keep them coming back. A coupon incorporating a dramatic discount or—even better—students' favorite four letter word, FREE, either being offered on a website, social media or in a college publication—is the best way to bring them in and have the opportunity to capture their return business with awesome attributes. One can even consider a bring-a-friend, two-for-one deal that will not only get one potential customer in the door of the gym, but two, ergo presenting twice the opportunity for the business to woo and wow.
Buy Print Advertising Space
Though not a new form of advertising, print is an oldie and a goodie. Purchasing advertising is basically paying to separate oneself from the competition, and whether one is looking to raise brand awareness among new potential customers or simply stay relevant in the eyes of current customers, advertising in the right publication could give a gym the needed exposure to capture the interest and business of college students.
Take, for example, a gym that advertises in a college magazine or campus newspaper. Loyal readers of the publication, which they know is specifically targeting them as students, are implicitly going to trust and prefer a business that is associated with it.
Another perk of modern-day print advertising is the ability to bring it to life with augmented reality. One could simply include a logo within their ad directing students to pick up their mobile phones, launch a free AR app and scan the page. From there, the business would have the opportunity to showcase whatever digital or video content they like. Readers could be redirected to a video (maybe a tour of the gym or a video that showcases testimonials from the gym's clients); a web page spotlighting a promotion that the gym is running; a like-gated Facebook page where they can "like" to redeem a coupon or enter a contest, etc. etc.)
Go Mobile
A mobile website is not simply an option anymore; these days, it's a necessity. (To get exact statistics on how and how often students use their phones, based on a survey of almost 700 students, click here.)
The majority of the time (especially when Wi-Fi isn't available or a lap top isn't around), the device that students are going to be using to get online is their ever-present cell phone. A site that isn't mobile-friendly isn't going to simply result in students waiting until they're near a computer to look up the business again; in most cases, they'll simply grow frustrated and opt for the business that instead is readily available on their phone.
A mobile-friendly site not only gives potential customers easily accessible information about the business (hours, pricing, contact information), but with an incorporated address and directions, it has the ability to assist in physically bringing customers through the door.
To opt out and refuse to be mobile-friendly is not just going to result in one's business being stagnant; it inevitably will result in falling behind.
Hire Students
Giving back to students by offering employment to those who are seeking jobs is the quickest way to better one's reputation around campus. By simply having students as employees, they become brand ambassadors of sorts on campus, inevitably and inadvertently marketing the business by simply wearing the t-shirt or talking about their place of employment. Hiring students simply ups the credibility of a business among other students, plain and simple.
Also it should be noted that, as mentioned before, college students tend to travel in packs. By hiring students and offering them a discount or free gym membership as employees, odds are that they will encourage their friends, classmates, members of their organization, etc. to come work out at the gym as well. One could also consider offering a friends-and-family discount that would provide a discount for college students that are friends of the employee as well; it's a well-known fact that saving money is a huge incentive for most college students, and giving them the opportunity to work out at a great gym--where their friend is working and their friends are already working out—is an excellent way to stand out in the crowd of fitness centers crying out for business. Simultaneously, this cycle has the ability to gain momentum as more and more of students' friends want to join the active social circle
Implement Proximity Marketing
Proximity marketing is a strategy tied to mobile devices and based on, of course, the proximity of a potential customer to a business. Whether choosing a restaurant to eat dinner, a movie theater to catch a flick or—of course—a nearby gym to join, students (along with most Americans) are constantly using their smart phones to make decisions. By using proximity marketing, a gym has the chance to utilize both students' location and their attachment to their cell phones to directly transmit messages promoting deals, promotions and more directly to the potential customers, ensuring they'll definitely see the message…and oftentimes follow up on it.
Study Breaks College Media provides a one-stop solution for small businesses, providing them with big marketing strategies and delivering college students.
Study Breaks magazine is an award-winning line of monthly entertainment magazines for college students with a mission can best be explained through its slogan: We are college life. Published by Shweiki Media Printing Company, it is distributed in five Texas cities (Austin, Houston, San Antonio, San Marcos and Lubbock). (Studybreaks.com)