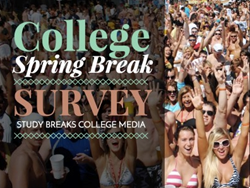 Of the 200+ students surveyed, 32% will be spending $500 or more on their Spring Break trip.
Austin, TX (PRWEB) March 19, 2015
Study Breaks College Media--in conjunction with vacation rental site,FlipKey--is pleased to present the results of their Spring Break survey! Over 200 students participated, providing insight into their Spring Break planning, booking, spending and more, and the stats can be found below and at Studybreakscollegemedia.com
On booking...
40% of students booked their trip less than a month before Spring Break, 46% booked 1-3 months in advance, and 13% booked over three months ahead of time.
95% of students did not use a travel company to book their trip. Of those who did, 51% discovered the company through social media.
On the destination...
16% will be heading to Denver, 11% to Austin, 7% to Cancun, 7% to South Padre Island, 6% to Miami Beach, 6% to Panama City Beach and 39% to other destinations.
On the length of their trip...
48% will be vacationing for 3-5 days, while 34% will enjoy more than five.
On their group...
Students are traveling in small groups: 62% of poll participants said they'll be traveling with 2-5 friends.
On accommodations...
42% of students will be booking a room/rooms at a hotel, while 17% will be renting a house, apartment or condo through an online service like FlipKey or Airbnb, and 11% will be renting without using an online service.
On transportation...
51% will be driving to their destination, while 44% plan to fly.
On money...
59% say price is the most important factor affecting their Spring Break trip decision (followed by where their friends are going, which came in at 23%).
32% will be spending $500 or more on their Spring Break trip.
74% say that money is the biggest issue and that if they weren't taking a Spring Break trip this year, it would be because they couldn't afford it.
View the full survey here, and for more information on how college students spend their money, check out the results of Study Breaks' survey on college students' spending habits.
Study Breaks College Media provides a one-stop solution for small businesses, providing them with big marketing strategies and delivering college students.
Study Breaks magazine is an award-winning line of monthly entertainment magazines for college students with a mission can best be explained through its slogan: We are college life. Published by Shweiki Media Printing Company, it is distributed in four Texas cities (Austin, Lubbock, San Antonio, and San Marcos). (Studybreaks.com/magazine)