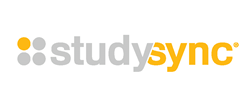 "This contest has always been a great opportunity for students to express their creativity and production skills. With four submission categories this year, I'm again excited to see the unique ways students choose to share their original ideas in different formats."
SONOMA, Calif. (PRWEB) January 21, 2020
For the seventh year in a row, StudySync is hosting its annual Media Contest, in which students with a creative strength in media have an opportunity to demonstrate their originality and media production abilities by creating themed video shorts, podcasts, or digital posters. To enter, teams of students collaborate to produce a StudySync TV-styled video, an original podcast, a StudySync-styled Preview video, or a digital novel poster. Teachers must submit the student-created multimedia projects on behalf of each team by May 4, 2020.
This year, StudySync continues to offer a wider variety of ways for students to get creative with media production from the original contest, offering four different formats for contest submissions. As with previous years, students still have the opportunity to direct and produce a five-minute video focused on any text or skill within the StudySync library that does not already have a StudySync® TV or SkillsTV episode. Submission formats also include:

Creation of a podcast sharing perspectives on any text in the StudySync Library
Production of a video mirroring a StudySync Preview for any novel or text that does not already have a preview, or for a favorite novel that is not yet in the StudySync library
Designing a digital novel poster image for a title not already in the StudySync library
To guide students through the creation of contest entries, teachers have access to a structured plan by using the MyStudySyncTV unit available in the StudySync Library. The Unit engages students in a comprehensive activity that addresses planning, scripting, and producing a StudySync TV-style episode. Student teams must script, film, and edit their own video, all while ensuring that it effectively delivers the lesson they intended. For teams looking to create a podcast submission, teachers are encouraged to have students listen to podcasts embedded within some of StudySync's Blasts, which can easily be located with the 'audio' filter.
"This contest has always been a great opportunity for students to express their creativity and production skills," said Co-Founder and CEO of StudySync, Robert Romano. "With four submission categories this year, I'm again excited to see the unique ways students choose to share their original ideas in different formats."
Each media submission will be reviewed and judged by StudySync's marketing, curriculum, and production team. Winning entries and honorable mentions will be posted on the StudySync blog, and the winning submitting teacher will receive an Amazon gift card to purchase items for their classroom. Submissions are limited to five entries per category per teacher.
For contest eligibility and entry guidelines, visit https://www.studysync.com/blog/announcing-the-7th-annual-studysync-media-contest.
About StudySync
StudySync is a leading developer of the most engaging, socially connected, and rigorous academic learning products for grades 6-12. StudySync, its hallmark offering of the same name, is an award-winning, comprehensive English language arts curriculum. The company's most recently released product, SyncBlasts, expands the company's scope to include an engaging, supplemental digital inquiry solution for both social studies and science classrooms.
For more information about technology-relevant educational products from StudySync, visit http://www.studysync.com.
McGraw-Hill Education is the exclusive distributor of StudySync products in the United States.
Media Contact:
Charlotte Andrist
Nickel Communications PR
(770) 310-5244
charlotte@nickelcommpr.com