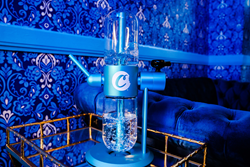 "The Stündenglass is a game changer, the fact it works with the G Pen connect and allows you to smoke flower as well compliments the hell out of the modern day gravity bong . We plan on making a custom smell proof bag for it and look forward to the mini dropping soon." Said Berner, Founder and CEO
LOS ANGELES (PRWEB) December 15, 2020
Stündenglass, the world's first gravity powered contactless water hookah pipe, has joined forces with premium international lifestyle brand Cookies, from founder and CEO Berner, to introduce Cookies x Stündenglass. This is the first official collaboration for the revolutionary brand. The two industry pioneers have joined forces to introduce exclusive co-branded precision machined hardware for the powerful and versatile patented hookah. ​Cookies x Stündenglass launches on December 15th at stundenglass.com and in Cookies retail locations worldwide in 2021.
"The Stündenglass is a game changer, the fact it works with the G Pen connect and allows you to smoke flower as well compliments the hell out of the modern day gravity bong . We plan on making a custom smell proof bag for it and look forward to the mini dropping soon." Said Berner, Founder and CEO of Cookies.
The co-branded Stündenglass marks a milestone in the brand's rapid rise in the industry following its highly anticipated launch earlier this year. Cookies is a globally recognized brand with the highest-premium genetics with passionate fans from all over the world. The Cookies x Stündenglass reimagines a contactless experience ​through industrial design and fluid flow physics. It elicits a powerful experience without having to share contact ​by ​generating kinetic motion activation via cascading water, opposing airflow technology and the natural force of gravity​.​
Cookies x Stündenglass Features:

1 Anodized Aluminum Frame
2 Glass Globes
2 Upstems
1 Mouthpiece
1 Glass Bowl
1 Hookah Bowl
1 Charcoal Tray
1 Hookah Hose + Hose Adapter
1 Hookah Wand + Hose Tip
1 Male to Male Adapter
360 Rotatable activation
Removable glass globes that are durable and dishwasher safe
Compatible with Hookah, Aromatherapy, Culinary, Mixology
A patented design backed by an extended 10-year warranty*, the Cookies x Stündenglass Gravity Hookah comes packaged in a reusable craft box with a handle, allowing for safe storage and transportation. Super durable, futuristic in design and superb in function, the Stündenglass Gravity Hookah stands alone at the pinnacle of smoking devices. Cookies x Stündenglass retails for $599.95 and is available to purchase via Sezzle with 4 Interest Free payments beginning December 15th at stundenglass.com.
About Stündenglass
Forward thinking functionality, precision craftsmanship and a transformative design aesthetic establish Stündenglass as the defining smoking culture piece. The patented 360 degree system is the first-of-its-kind gravity hookah water pipe revolutionizing consumption through design and physics - leading the industry forward with an immersive experience. Established in 2012 by Tracey Huston, a self taught inventor, Stündenglass provides the most powerful and efficient smoke filtration experience without a battery or motor, using simply pure fluid physics. Visit https://stundenglass.com/
About COOKIES
COOKIES, founded in 2008 by Berner (the prolific Bay Area rapper and entrepreneur) and his partner Jai (a Bay Area breeder and cultivator) is more than a premiere cannabis company; it is an authentic lifestyle brand with passionate fans all over the world. The company went mainstream in 2011 and has grown its business through the combination of globally recognized premium genetics, popular culture resonance, and social media influence. COOKIES is constantly engaged in new breeding projects to launch differentiated brands and has quickly built a grassroots cult following while remaining loyal to its brand promise: authenticity and genetics innovation.
Today, COOKIES is one of the most well-respected and top-selling cannabis brands in California and throughout the world. The company and its product are recognized globally and offer a stable of over 85 cannabis varieties and product lines including indoor and sungrown flower, pre-rolls, gel caps, and vape carts. COOKIES' seed-to-sale business allows for complete quality control at every step—from cultivation and production to customers' end retail experience. With a deep commitment to restorative justice and progressive drug policy, COOKIES actively works to enrich communities disproportionately impacted by the War on Drugs through advocacy work and social equity initiatives.