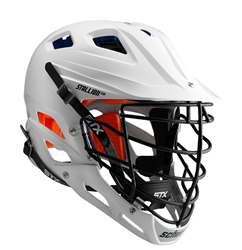 By combining Schutt's proven protection technologies with STX's knowledge of lacrosse, we've created a unique blend of style, protection and performance.
Baltimore, MD (PRWEB) November 17, 2014
Baltimore-based STX, LLC, a global sporting goods leader, has partnered with Schutt® Sports to revolutionize the lacrosse helmet, unveiling the Stallion 500™ helmets in retail stores around the country today. Schutt, the world's leading maker of football helmets and faceguards, now has 50% of the skill position players in the NFL wearing their helmets.
"We looked at the helmet market and saw a glaring need for both competition and innovation," explained Jim Benton, Director of Product Management at STX. "That's what drove us to work with Schutt to create the new Stallion helmets. By combining Schutt's proven protection technologies with STX's knowledge of lacrosse, we've created a unique blend of style, protection and performance."
Designed specifically to fit the performance needs of the elite lacrosse player, the STX Stallion 500 uses a powerful combination of Thermoplastic Urethane (TPU) Cushioning™ and D3O™ technology to provide advanced protection.
Schutt's TPU Cushioning system, based upon materials used by the U.S. military for fighter pilot and paratrooper helmets, is designed for better impact absorption and targets key areas in the front and crown of the helmet. The patented D3O technology allows the helmet interior to remain soft and flexible in its natural state. Upon impact, however, the molecules in D3O lock together to absorb and disperse impact energy, providing exceptional protection.
"We have spent years collaborating with STX to create the next evolution in lacrosse helmets, with the focus of the development directed towards performance and protection. The results are better skull protection and better impact absorption for the lacrosse player, when compared to the competition," noted Cortney Warmouth, Director of Research and Development at Schutt. "These athletes are playing in 100-degree heat by the end of the spring season and can play in very cold temperatures during fall ball. The technology incorporated within the STX Stallion 500 helmet is designed to maximize performance in virtually any playing condition."
The new STX Stallion 500 is the only lacrosse helmet on the market that provides three ways to customize the fit:

Multiple size offerings instead of "one size fits most."
Schutt's adjustable SUREFIT AiR Liner allows lacrosse players to use a pump to inflate and deflate an air bladder. This allows the helmet to form to the contours of the player's head.
An adjustable EVA jaw pad, which comes in various sizes.
"In testing, I immediately noticed that the STX helmet was incredibly comfortable and fit naturally to my head," attested lacrosse icon Kyle Harrison, a former All-American with John Hopkins and current star for the MLL's Ohio Machine. "The flexible material in the shell wraps around the back of your neck and just feels extremely secure. It's like no other helmet I've ever worn."
STX's helmets were tested at two certified, independent helmet testing facilities to make sure the helmet met and exceeded the National Operating Committee on Standards for Athletic Equipment (NOCSAE) standard. To view the report in its entirety, visit http://www.stx.com/helmet.
Also available in stores is STX's Stallion 100 helmet, designed for the youth player dedicated to developing his game. The Stallion 100 blends EVA foam protection and a unique liner to provide safety and comfort. Stallion 100 technologies also include the ABS Shell, TPU Cushioning, EVA Comfort Liner and adjustable EVA Jaw Pads.
STX not only equips players to perform their best but also offers the most customizable helmet in the game with thousands of color, finish and texture combinations. Athletes can create their own one-of-a-kind helmet with STX's unique Custom Builder at http://custombuilder.stx.com.
About STX:
STX is a global sporting goods leader in the sports of lacrosse, field hockey and ice hockey. With its 1970 introduction of the first synthetic lacrosse head, STX ushered in the "modern era" of what is now the fastest growing team sport. Based in Baltimore, the home of lacrosse, STX has been universally recognized for innovation in product design and development. STX continues to strive for new performance standards in sporting goods equipment at the highest levels of competition. For more information, visit http://www.stx.com.