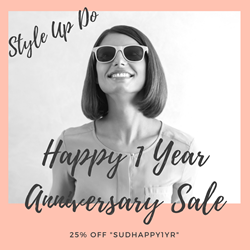 Style Up Do's one-year anniversary marks a special milestone for us.
JERSEY CITY, N.J. (PRWEB) August 28, 2018
Style Up Do, an online destination offering trendy and affordable hair accessories, announced today that it will host a limited-time only online sale to mark its one-year anniversary. The sale will take place on Aug. 31, 2018 at 12:00 a.m. and last until Sept. 16, 2018 at 11:59 p.m.
To show appreciation, Style Up Do will offer a 25 percent discount on orders to customers that enter promo code, "SUDHAPPY1YR" upon checkout -- valid one purchase per customer. Customers can shop from the company's expansive collection of hair accessories including hair clips, hair pins, hair ties, headbands, and jewelry by visiting styleupdo.com on a desktop, mobile device, or tablet.
Since launching in August of last year, Style Up Do's growth has accelerated, expanding to over 80 offerings. This includes the company's best-selling item, "Metallic Headband," as well as newest additions, beach-themed summer accessories, which can be found under the "New Arrivals" section of their website. In addition to hair accessories, Style Up Do also curates styling content designed to inspire women in creativity with their everyday outfits such as their most-watched video, "How to Create a Voluminous Messy Hair Bun."
"Style Up Do's one-year anniversary marks a special milestone for us. We could not be more pleased with the feedback we have received since launching and first year's sales," said Kazuko Tatsumoto, CEO of Style Up Do. "We would love to take this opportunity to show our appreciation to our customers, as well as connect with those who may not know about us yet."
To learn more about Style Up Do, and shop their designs, visit styleupdo.com.
About Style Up Do
Style Up Do is an online destination offering hair accessories and jewelry, helping customers to expand on the potential of their everyday outfits without breaking the wallet. Launched in August 2017, the company was founded by Kazuko Tatsumoto, who grew up in Japan, and was able to find a diverse range of accessories at various price points. Style Up Do provides a solution for women who experience the struggle of choosing between the high prices from department stores or the pieces designed for children found within shopping malls. Their diverse collection includes hair accessories, jewelry, and tools and basics in addition to styling inspiration for women. For more information, visit styleupdo.com, or follow us on Facebook, Youtube, Pinterest, or Instagram.
Contact
contact(at)styleupdo.com