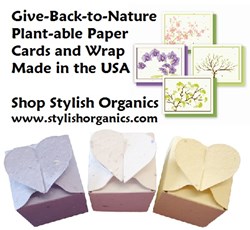 We are in the mode of responsible consumption with more consumers focused on eco-friendly practices to reduce their environmental footprint.
Stanton, New Jersey (PRWEB) December 31, 2013
Organic and eco-friendly are terms familiar to consumers as they take a step back to assess their product purchases based on health concerns, environmental impact, and value toward sustainability. "We are in the mode of responsible consumption with more consumers focused on eco-friendly practices to reduce their environmental footprint," said Lynn Lavanga owner of Stylishorganics.com. "I believe consumer purchasing in the upcoming year will be influenced by a focus on environmentally friendly practices, use of sustainable resources, reduction of over consumption by reusing, and recreating from recycled materials."
Following are six trends that showed growth through 2013 that Stylish Organics feels will continue to expand in 2014.
Choice of Organic Natural Skin Care and Personal Care Products
Increased consumer awareness of toxic chemicals used in personal and skin care products finds more consumers replacing conventionally produced cosmetics with organic natural skin care and personal care products. Year 2014 will show an increase in consumer choice for certified organic, all natural skin care and personal care products for personal and environmental health.
Use of Eco-friendly and Natural Pet Products
As with human personal care products, increased awareness of chemical laden pet products has owners searching out organic and natural alternatives. 2014 will continue the upward rise in consumer choice of chemical free natural pet shampoos and conditioners, organic treats, eco-friendly toys, and even organic cotton pet clothes!
Demand for Slow Fashion with Eco-friendly Organic Clothing
With situations such as the Bangladesh factory collapse bringing to light horrid working conditions, product transparency has been a growing consumer demand. People want to know products they buy are from green manufacturers that show a concern toward the well-being of workers as well as the environment. With a goal of lowering their carbon footprint and protecting their own health, consumers are heading toward organic and sustainable fiber clothing. Year 2014 will show a rise in conscious fashion as more consumers search for clothing made from organic cotton, bamboo, hemp, and modal. Buying less that will last longer, consumers will look to organic clothing for its durability and easy care properties.
Environmentalism through Eco Home Decor
Consumers are applying eco-friendly ideas toward more green living home interiors. Searching out eco home decor items, consumers are decorating with furniture made from recycled or sustainable hardwoods, rugs from natural jute or sustainable bamboo fibers, organic cotton bed linens, futon covers, and decorative pillows, bamboo or recycled glass tableware, and natural soy candles. Stylish Organics sees this trend expanding in 2014 as consumers continue to green up their living style.
Preservation of Natural Resources through Use of Sustainable and Recycled Paper Products
Increased concern with the ill effects of deforestation has resulted in a look at the massive amounts of paper used by consumers each year. Paper produced from recycled paper fibers is a better alternative to new tree pulp. Year 2013 saw an increase in consumer demand for recycled paper products that Stylish Organics feels will continue to rise in 2014. Recycled paper gift wrap, stationery items, art paper and recycled paper cards have been gaining in popularity. Going hand in hand with the increased recycled paper use are paper products that 'give back' to nature. Seeded paper cards and plant-able paper stationery have caught the eye of earth savvy consumers and will continue to be in demand through year 2014.
Earth Savviness with Made-One-Time Use-Many-Times Eco-Friendly Accessories
Most noticeable with the get-rid-of-the- plastic-bag effort, the trend of recycled reusable products continues full throttle. Consumer choice of reusable shopping bags, totes made from recycled materials, stainless steel reusable water bottles, and green toys made from recycled plastic, displays a consumer earth savviness that Stylish Organics maintains will continue to grow throughout 2014.
Stylishorganics.com continues to make consumer choice easy by researching organic, eco-friendly, sustainable products to meet consumer demand. Always on the search for new green lifestyle products the e-commerce boutique welcomes any product suggestions.
About Stylish Organics
Stylish Organics is an e-commerce boutique offering a collection of products selected for earth friendly properties from environmentally responsible manufacturers. The company's easy to shop; one-stop-shopping venue enables those committed to green living to combine savvy styling with earth friendly thinking. Many of their products are made in the USA or are ethically sourced from organizations that globally support women. The boutique is based in Stanton, New Jersey and is available to consumers on-line with shipping provided to locations in the United States and Canada. They can be reached via their website, email - contactus(at)stylishorganics(dot)com or by calling 800.581.6417.