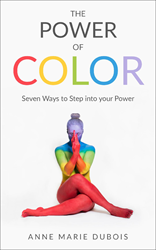 My mission is to empower millions of hearts in the U.S., Chile and the Latin community, to step into their confidence through self-love, self-empowerment, and self-expression, working from your mindset, your body to your personal style. Anne Marie Dubois
LOS ANGELES (PRWEB) May 22, 2019
The Power of Color is a new and refreshing self-discovery tool written by stylist Anne Marie Dubois. The fashion expert and creator shares seven ways for women to step into their power expressing themselves through the colors in their wardrobe and beyond. Alongside fashion, The Power of Color combines spirituality, music, and dancing to further self-expression. Women looking to enhance a sense of empowerment in their lives can learn how to be a Spiritual Superstar with this new book.
A part of being a Spiritual Superstar in The Power of Color is recognizing the empowering traits within certain roles models. The book explores women with signature styles such as Jennifer Lopez, Rihanna, and Lady Gaga. Their music and presence are examples of how to find ones own inner superstar and dance for self-expression and exploration. Each of the women Anne Marie mentions in her book is associated with a power color, a significant quality, and, of course, a type of music.
Anne Marie Dubois herself is coined "The Queen of Color" working as an image consultant and personal stylist for a number of clients. Now, she is taking on the world of women's empowerment and self-love through spirituality and style. She is a Chilean born fashionista who recently moved to Los Angeles to share her message of self-celebration. As a stylist, Anne Marie has worked the New York Fashion Week for major brands such as Hugo Boss, DKNY, and others. She is the CEO of stylebyanneaarie.com, offering workshops, events, and seminars on how to be a Spiritual Superstar. Her first book, The Power of Color, is her latest iteration of encouraging wholeness along the way to being such as a dynamic individual.
Anne Marie says, "I am on a mission. My mission is to empower millions of hearts in the U.S., Chile and the Latin community, to step into their confidence through self-love, self-empowerment, and self-expression, working from your mindset, your body to your personal style."
Through her book, the author is dedicated to helping others discover their power colors. By acknowledging the power within, women who read her book can express that power outward through their clothes and confidence.
Website: http://www.spiritualsuperstars.com
About Anne Marie
Anne Marie Dubois is a Chilean Spiritual Superstar, international speaker, author and stylist, who relocated to Los Angeles. She studied Image Consulting at the Fashion institute of Technology in New York has experience working the New York Fashion Week, and hosting runway shows for designers on Chilean national television. She is the author of the book The Power of Color, teaching people how to connect with their power colors. Anne Marie integrates fashion and spirituality working from your mindset to your body, to your personal style, all while bringing colors and Latina flavor into her client's life. She host events and seminars both in LA and Chile. Embark on a fun journey to embody confidence with Anne Marie!
About DDHPR
DDHPR is a boutique marketing and public relations firm catering to an eclectic roster of fashion, beauty, curve, multicultural, non-profit and artist clients. For more information, please visit http://ddhpr.com/