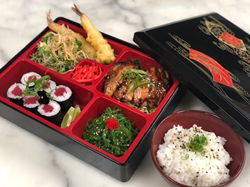 LAS VEGAS (PRWEB) November 06, 2019
Silverton Casino's latest culinary venture, Su Casa, celebrates its one-year anniversary in November with specials starting at $1. The eatery, nestled inside Mi Casa Grill and Cantina, seamlessly merges trendy coastal Asian cuisine with the bold culinary traditions of Mexico for a coast-to-coast culinary adventure.
Su Casa is celebrating this milestone by offering happy hour sushi rolls for just $1 as a nod to the one year anniversary all month long from 5 p.m. – 7 p.m. Also, the Birthday Bash Bento Boxes that include grilled Teriyaki chicken, tempura shrimp, seaweed salad, Asian slaw, white rice, and a Tekkamaki roll will also be featured for only $15.
These specials will be available through the month of November.
Su Casa opens for dinner at 5 p.m. Sunday through Thursday and 4 p.m. Fridays and Saturday.
For more information about Su Casa, visit http://www.silvertoncasino.com or call 702-263-7777.
** For all press requests and photos, please contact Kimiko Peterson at Kimiko.peterson@silvertoncasino.com**
About Silverton Casino Hotel
Silverton Casino Hotel offers 300 deluxe rooms and suites and world-class amenities all located within an upscale, contemporary luxury lodge-themed resort. Silverton Casino Hotel is home to a variety of restaurants and dining options, including the Seasons Buffet, the 24-hour Sundance Grill, Shady Grove Lounge, Twin Creeks Steakhouse, Mi Casa Grill Cantina, WuHu Noodle, Starbucks and Johnny Rockets. In addition to the flagship 165,000-square-foot Bass Pro Shops Outdoor World, Silverton offers 90,000 square feet of gaming with more than 1,500 slot machines and 23 table games and the Mermaid Restaurant & Lounge. The property features a 117,000-gallon saltwater aquarium with more than 4,000 sharks, stingrays, and tropical fish, which was voted "Best Attraction" in the Best of Las Vegas®. Silverton Casino Hotel is located at I-15 and Blue Diamond in Las Vegas. For more information, please call (702) 263-7777 or visit http://www.silvertoncasino.com.
###