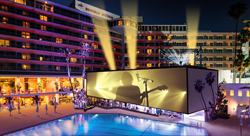 LOS ANGELES (PRWEB) January 01, 2021
Subnation Media, an entertainment holding company focused on the culture of gaming and lifestyle of esports, today announced the launch of "Oasis", a live entertainment series at the legendary Beverly Hilton which, for decades, has been the backdrop of global events. Throughout the spring and summer of 2021, the COVID-compliant series will offer guests a unique experience with front row seats from the balcony of their room, as well as enhanced virtual viewing for audiences at home.
"We are continually looking for innovative opportunities and creating memorable experiences for our guests and visitors, said Michael Robertson, Hotel Manager at Beverly Hilton. "We are excited to collaborate with Subnation to develop forward-thinking approaches and alternatives to bring live performances back while abiding by safety regulations and social distancing guidelines."
Set on the rooftop of the hotel's international ballroom, home to several award shows and charitable events, the Subnation Oasis entertainment series will feature musical performances, gaming competitions, immersive theatre, stand-up comedy, and film premieres.
With safety as a top priority, event attendees will be rapid-tested in their vehicle upon arrival, required to wear masks in public areas and comply with all health regulations per local, state and federal guidelines. Once in their suite, they will enjoy the live entertainment from the comfort of their balcony as well as an in-room culinary experience, personal bar cart, candy bar and limited edition apparel and merchandise.
"As OTT viewing, gaming and livestreaming have exploded during the pandemic, we began to ideate new ways to safely deliver live entertainment." stated Doug Scott, Co-founder and Chief Managing Director of Subnation Media. "With a storied history of hosting premium industry events, we recognized that the iconic Beverly Hilton offers a unique outdoor layout, with the rooms and balconies overlooking the roof of the ballroom and pool. This allows us to create a physical to digital transformative experience, that delivers intimate performances for fans with their favorite artists and entertainers while ensuring a COVID-safe environment."
This partnership comes on the heels of Subnation being selected as the Marketing Advisor, Event Partner and Content Producer for Atari Hotels. Over the past two years, the company has been the official cultural partner for flagship industry events like E3 and DreamHack, and delivered award-winning experiential activations for brands such as Volkswagen, Marvel, Amazon Games, Red Hat and L'Oreal. Subnation also advises local sports authorities and government bureaus like Visit Raleigh and the City of Kissimmee on building viable gaming and esports ecosystems that support a diverse range of events and tournaments, unlocking millions in economic impact.
About Subnation Media:
Subnation Media is a gaming and esports media holding company that develops, produces and manages lifestyle content, immersive experiences, and original properties that influence today's culture. With a diverse team of industry experts, marketing professionals and innovative creators, we build engaging programming that appeals to over 3 billion gamers worldwide while collaborating with clients to establish an authentic voice and purposeful presence within the gaming community.