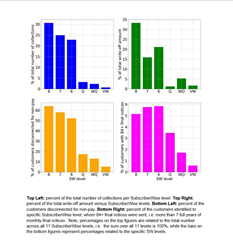 Both risk and marketing analysis show that the same subscribers generate less problems, while generating higher revenue. Vitali Halenka, Ph.D.
MASSILLON, Ohio (PRWEB) August 31, 2020
SubscriberWise (http://www.subscriberwise.com), the nation's award-winning issuing consumer reporting agency for the communications industry, announced today the results of a data analysis proving the accuracy of its proprietary segmentation technology.
The data analyzed was obtained from a SubscriberWise member identified as a 'mid-sized MSO' (multiple system operator), serving approximately 50,000 subscribers. The analysis evaluated long-term subscriber payment behavior with various credit and account factors spanning more than a decade.
SubscriberWise, a web-based or API instant decisioning platform, precisely evaluates federally-compliant consumer credit and regulated scoring with operator-defined business rules. The system infrastructure is designed to deliver industry-calibrated segmentation technology to assess consumer credit risk for the nation's small to mid-sized communication operators.
The rules-based and scalable business-to-business technology automatically assigns existing and prospective subscribers into one of 11 decision levels, based on a dynamic analysis of a 'permissible purpose' consumer credit inquiry. Operators leverage the information to instantly identify reliable and risky customers, before approving service and installing costly equipment, for the most accurate subscriber assessment available.
The SubscriberWise data analysis evaluated key factors including the number of collections, write-off amount, final notices, and percent of the customers disconnected for non-payment. Subscribers with the lowest credit risk - best 3 decision levels - are segmented as Qualified (Q), Well Qualified (WQ), and Very Well Qualified (VW). Subscribers with the highest credit risk - worst 3 decision levels - are segmented as levels 6, 7 and 8, with Level 8 representing the most risk.
Each decision level is represented on the figures from the report prepared by SubscriberWise chief data scientist Vitali Halenka, Ph.D. (see "attached pdf file" for the full report).
The results clearly demonstrate the predictive power of SubscriberWise technology to identify risky customers. According to the data, the best 3 levels account for ∼6% of all collections and only ∼8% of the total write-off amount, while in combination representing ∼45% of all subscribers.
In contrast, the bottom 3 levels (∼35% of all subscribers) produce 12.6 times more collections (∼80%), while generating 8.5 times higher write-off amount (∼70%). Additionally, 3 out of every 5 customers from the bottom 3 levels are disconnected for non-payment at some point during the service relationship, while less than 10% of the subscribers from the top 3 levels are disconnected for this reason.
"Results of statistical analysis of 49,317 customers over more than 14 years of consumer credit data strongly support predictive power of SubscriberWise segmentation technology", said Vitali Halenka, Ph.D.
The report provides statistical analysis from a marketing perspective as well. While the numbers are not as substantial as results of analysis from a risk management perspective, they are still significant as SubscriberWise technology allows operators to identify subscribers who generate ∼40.7% higher revenue.
"Both risk and marketing analysis show that the same subscribers generate less problems, while generating higher revenue. SubscriberWise is clearly capable of successfully identifying profitable subscribers as well as to accurately segment similar prospective customers," Dr. Halenka concluded.
About SubscriberWise
By incorporating decades of communications performance data and decision models, SubscriberWise® delivers unprecedented predictive power with a federally compliant, score driven decision management system. With SubscriberWise, no service request is ever denied because of adverse consumer credit.
SubscriberWise is a U.S.A. federally registered trademark of the SubscriberWise Limited Liability Co.