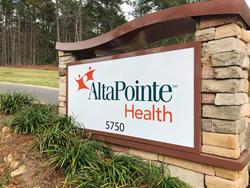 "We are making great strides in service to our clients, and it has benefitted our employees as well. I am elated to see the growth in our four counties," Edward Hall, Ph.D., AltaPointe board of directors and former CRMHC board member.
SYLACAUGA, Ala. (PRWEB) November 26, 2018
Two years have passed since AltaPointe Health merged with the former Cheaha Regional Mental Health Center, and leaders of both entities are lauding the merger as highly successful.
Cindy Atkinson, former director of Cheaha Regional Mental Health Center and now associate executive director of community mental health for the Sylacauga region said the merger has been "wonderful" for the four-county community as well as for staff members.
"It's remarkable how far we have come in two years," she said. "Every area of our work has been impacted in a positive manner by the merger."
AltaPointe's investments in programs and technology, she said, have freed up clinicians and therapists who previously were responsible for a variety of administrative tasks. "We have been able to restructure our clinical services in a manner that allows our clinicians to focus exclusively on service delivery," Atkinson said. "This has decreased wait times and substantially increased services –while reducing overall administrative costs for both regions."
When it was finalized in August 2016, the merger brought four counties– Talladega, Clay, Coosa, and Randolph – under the AltaPointe name and umbrella. Since then the counties –- referred to collectively as the organization's Sylacauga region -- have nearly doubled in the number of people they've served.
"Our shared vision was that through this partnership we could improve and enhance services in our Sylacauga region," said Tuerk Schlesinger, AltaPointe's CEO. "That vision has been realized. The merger could not have gone more smoothly."
In particular, the Sylacauga region's school-based therapy programs have blossomed.
"We currently have eight master's level therapists in six school systems and will continue expanding the program this year," Atkinson said. "We also have two program sites in Talladega County for after-school and summer day treatment services for children and adolescents, and we hope to expand these programs into other counties in the Sylacauga region."
Moreover, the region has added a full-time child and adolescent psychiatrist and two full-time nurse practitioners. "With AltaPointe's state-of-the-art telehealth equipment in all our outpatient locations, they are providing care across the Sylacauga region with significantly reduced wait times," Atkinson added. Schlesinger said AltaPointe's immediate plans for the region include new outpatient treatment facilities in Randolph and Clay counties plus a half-million-dollar capital investment project in Talladega County.
Olivia Nettles, AltaPointe's clinical director for children's outpatient services, said the Sylacauga region's strides in school-based therapy have been "tremendous, considering that they've been able to do all this in just two years." "It means so much to the schools and to families," Nettles said. "Now the children have easy access to therapists. Also, they don't have transportation issues and they don't have to miss a lot of school to keep their appointments. Plus the therapists can coordinate with teachers and administrators."
AltaPointe, Alabama's largest and most comprehensive behavioral healthcare and psychiatric hospital system, serves approximately 30,000 people in its seven-county area and employs nearly 1,500 clinical and non-clinical staff members. As a public not-for-profit entity, AltaPointe is governed by a board of directors as outlined in state law. The board comprises 24 voting members –12 from the Sylacauga region and 12 from the South Alabama region – appointed by the elected officials of the City of Mobile, Mobile County, Washington County, Baldwin County, Clay County, Coosa County, Randolph County and Talladega County. AltaPointe's board also includes 11 advisory members. The board is responsible for planning, coordinating and developing the mental health service system for the regions it serves.
Edward Hall, Ph.D., former CRMHC board member, serves on the AltaPointe board of directors. Dr. Hall believes the merger has been productive for all parties involved."We are making great strides in service to our clients, and it has benefitted our employees as well," Hall said. "I am elated to see the growth in Clay and Randolph counties, and the improvements in infrastructure to the existing facilities in Talladega. I consider the merger a great success."