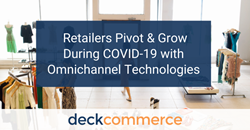 Retail brands that had robust order management systems (OMS) in place before the pandemic have been able to scale their operations significantly.
ST. LOUIS, Mo. (PRWEB) July 15, 2020
As the world adapts to life during a global pandemic, many online retailers are seeing Black-Friday-level volumes and leveraging omnichannel technologies to keep up with demand.
The increased volumes on digital channels, in conjunction with the restriction of foot traffic in brick-and-mortar stores, has driven many retail brands to shift their strategic focus to omnichannel technology solutions, such as sophisticated order management systems.
Deck Commerce, the top-tier order management system (OMS), helps premium retail brands simplify their direct-to-consumer processes and provide access to valuable data to continually improve the omnichannel buying experience— from store front to front door.
Additionally, OMS enables retailers to leverage a variety of creative fulfillment options needed during COVID-19 shutdowns (I.e. ship from store, curbside pickup), and other advanced capabilities to connect with their customers.
Many Deck Commerce customers converted their shuttered stores to micro-distribution centers and leveraged their store associates to pick, pack, and ship orders with help from their OMS. Other customers repurposed their stores as socially-distanced "showrooms" and fulfilled all orders online from their distribution centers.
"We are in an interesting era of retail history," says Christopher Deck, Founder & CEO of Deck Commerce. "We've been proud that we can play a role in helping retailers connect with their customers despite the circumstances."
The drastic change in the retail landscape forced all brands to consider omnichannel capabilities. However, the brands that had robust order management systems in place have been able to scale their operations significantly, and shift around people and resources to continue to delight their customers.
Since March of 2020, Deck Commerce customers have experienced an average of 96% YoY growth.
[About Deck Commerce]
Deck Commerce best-in-class Order Management Software (OMS) powers omnichannel commerce for leading brands like New Balance, Build-A-Bear, Rawlings, Ardene, and others. The highly flexible, cloud-based solution features support for inventory management, order orchestration, and transaction processing. The platform enables businesses to scale and increase revenue by optimizing distribution networks and leveraging existing back-end business systems, all while providing consumers a seamless omnichannel experience. To learn more, visit https://deckcommerce.com.